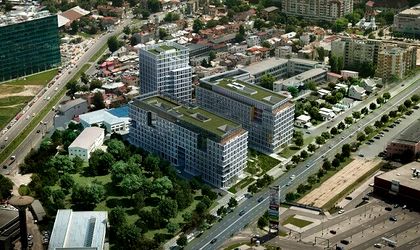 AFI Tech Park, the new Business Campus developed by AFI Europe Romania in Bucharest, announces two new tenants in AFI Tech Park 1, the first office building, Connect 44, a telecommunication engineering company, and Best Chef, a well-known catering service brand for the Bucharest office segment, leased a total area of ​​approximately 2,300 sqm.
With these new tenants, AFI Tech Park 1 reaches a 50 percent occupancy rate.
Located in the center of Bucharest, close to the Parliament Palace and at the intersection of three major residential areas – sectors 4, 5 and 6, AFI Tech Park will become one of the most complex office projects in the city, offering 56,000 square meters of office space Class A through the two buildings with a P + 8 height and a 14-storey tower building that will allow tenant options for expansion.
1,800 sqm for Connect 44
With a rental space of 1,800 sqm in AFI Tech Park 1, Connect 44, a group based in Lucerne, Switzerland, founded in 2000 with over 600 employees in Switzerland, Britain, Germany, France, Romania and Chile. In Romania, Connect 44 created over 90 jobs in the field of telecommunication engineering in just a year.
Best Chef will open a 420 sqm cafeteria dedicated to the employees of AFI Tech Park 1.
The two new tenants join other companies and leading organizations in their areas, which have rented office space in AFI Tech Park 1, such as Hilti Romania, Knauf (with the two divisions, Knauf Gips and Knauf Insulation), World Class, WWF , Game World Group or RTC Proffice Experience.