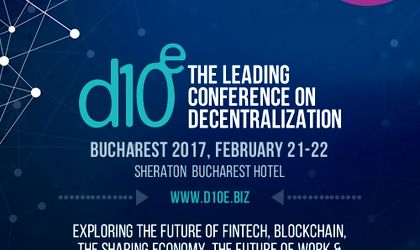 The d10e conference will take place in Romania during February 21-22. After talking about decentralization in the most active hubs in the world – San Francisco, Singapore, Amsterdam – the hot topic reaches Bucharest.
There will be 40 international top-level speakers reuniting at Sheraton Hotel, Bucharest, to enlighten the participants. Some 300 of the most passionate leaders are expected to attend, as the event in internationally recognized by professionals from all fields, passionate about spearheading decentralizing technologies and ideas.
The d10e conference is one of the fewest events in the world, where the attendants are able to discover the future of tech & decentralization technologies tackling many aspects that provide a singular interaction pattern: network, learn, celebrate & engage.
You can get a 10 percent discount for the tickets by using the  BUSINESSREVIEW code!
"The only way to stay in is to immerse yourself in a community comprised of those making & breaking, " say the organizers of the event. "The d10e conference is the perfect opportunity to discover a movement which allowed multiple disruptive industries to explode. The race towards decentralization, as a unifying theme, has become part of everyday lives. Therefore, the key topics that will be approached during the conference have became impressive businesses in areas such as: fintech, blockchain, sharing economy, the future of work, disruptive culture," says Brock Pierce, d10e co-chair.
Everyone at the conference will join a community where they will socialize and will have the chance to:
Meet inspiring visionaries and makers creating the world of tomorrow.
Stay privy to the hottest innovations and trends in business, investment, communication, marketing and technology.
Celebrate the future in a relaxed environment, by assimilating the art of eating, drinking and making merry.
Participate in an intimate open forum with other passionate collaborators and build friendship relations.

More information & details about the event at: http://d10e.biz/
Georgiana Bendre