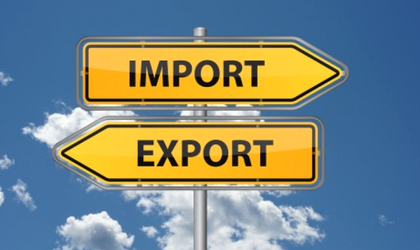 The commercial balance deficit grew year-on-year by 28 percent in the first eight months of 2016 to over EUR 6.13 billion, according to a press release of the National Institute of Statistics (INS).
During January 1- August 31, the FOB exports amounted to over EUR 37.44 billion, representing a 4 percent growth and the CIF imports increased by 6.8 percent to over EUR 43.57 billion.
"The value of inter-community goods (Intra-UE28) represented 75 percent of the total exports and 77.1 percent of the imports, while the value of extra- community goods (Extra-UE28)  represented 25 percent from the exports and 23 percent of the imports, " says the release.
In the first eight months, the important shares in the exports and imports structure are owned by the transport cars and equipments (42.2 percent on exports and 37.5 percent on imports) and manufacturing products (32.8 percent on exports and 31.2 percent on imports).
In August the FOB exports were over EUR 4.44 billion and the CIF imports exceeded EUR 5.46 billion, while the deficit was over EUR one billion. Exports went up by 13.4 percent in August compared with 2015 and the imports grew by 14.4 percent.
Georgiana Bendre