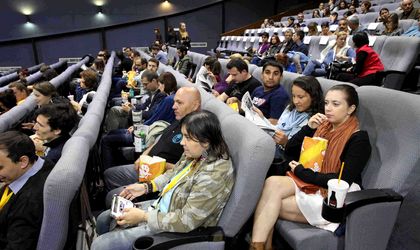 With two low cost airlines offering special prices from Bucharest to Cluj Napoca in an only 45 minutes flight, this city is the place to be this weekend for a good laugh at the eight edition of Comedy Cluj International Film Festival. The festival already kicked off last Friday and their offer suggests movies from "exotic" countries that are not usually to be found in the cinema, such as Kazakhstan, Lebanon, North Korea, Taiwan or Guatemala.
A new element of this year's edition will be the section "Comedy Exotic", a selection of films from rarely accessible cinematographic areas to the Romanian audience. As 99% of the movies in the Romanian cinematographs are blockbusters from Hollywood, Comedy Cluj will break the ice by bringing films made in other parts of the world.
"Comedy Cluj is a new cinematic experience for the audience, as well as the challenge of discovering new films that we don't usually have access to, from countries that we would hardly be able to visit. Most certainly we will have fun seeing how common comedy movie subjects are filmed in a surprising way when it is shot in Asia or South America. We also have the opportunity to discover completely new traditions, but also very different systems, like the one from North Korea", says Bogdan Besliu, artistic director of the festival, who selected the films, on their official website.
Program suggestions for the weekend:
Friday, October 28
Cinema Florin Piersic
18:00 Competition Atomic Falafel
Synopsis: Two girls from nuclear towns in Israel and Iran spill their countries most valuable secrets on Facebook while trying to prevent a nuclear crisis.
20:30 Competition Radio Cortile
Synopsis: Fabio, a late night radio host, has built a loyal audience with his love of cruel jokes and sadistic insults. When a young and beautiful singer with a shadowy past, Nadia, has to be interviewed by Fabio on air, their conversation will rock his world in totally unexpected ways.
Cinema Victoria
19:00 Razvan Vasilescu – Stand Up Comedy –"Era Ok și la 60"
Saturday, October 29
Cinema Victoria
17:00 Shorts competition: Independent
Cinema Florin Piersic
19:00 – Closing Gala and Afacerea Est movie
Synopsis: Two Moldavian friends begin a journey full of adventures and suspense trying various business ideas in order to earn enough money to achieve their dreams. A film that doesn't miss out on the brilliant humor of Igor Cobileanski.
Sunday, October 30
Cinema Florin Piersic
15:00 Shorts animation
18:00 French Cuisine
Synopsis: A complicated story around a seaside gastronomic hotel-restaurant run by a dysfunctional family. Butter included.
Oana Vasiliu