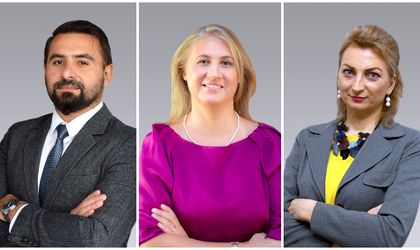 Continuously growing, Colliers responds to current challenges and future needs in the Romanian valuation market with the Valuation 360° solution, a new business line focused on integrated valuation services for real estate, corporate, movable and intangible assets. Thus, Colliers' Valuation and Advisory Services department completes its team of specialists with the appointment of Bogdan Mitroi, a professional with more than 10 years in the valuation market, in the position of Director specialized in Business Valuation and Fixed Assets, and Alexandra Duma, who has accumulated 15 years of extensive experience in the field of financial analysis, in the position of Project Manager for Valuation and Advisory Services.
Providing a complete solution and acting as a common point of contact for all parties involved in the process, the Valuation 360° service is based on three business lines covering all major segments of the valuation market – Business, Fixed Assets and Intangible Assets Valuation – complementing Colliers' broad expertise in real estate valuation. Over the past five years, Colliers has valued more than 500,000 commercial and residential properties worth a total of 40 billion euros.
"In recent years, we have seen an increasing need fromclients not just for real estate valuation services, but also for other types of assets, both tangible, such as machinery, equipment and installations, and intangible, such as contracts, trademarks, rights of use, liabilities or receivables. The purpose of valuation is no longer just to loan lending, as many clients now request valuations for accounting recognition of assets or for M&A, transfer pricing or purchase price allocation, which is mandatory to be carried out within a certain period of time after transaction by companies that acquire a majority or full stake in another entity", explains Bogdan Mitroi, Director in Colliers' Valuation and Advisory Services department.
The basic principle behind the Valuation 360° concept is to concentrate, in the same team, professionals covering all types of valuation that clients might need and who can work in parallel on a consolidated project, and this approach translates into time savings and less redundant effort for the client.
"From our experience so far, the administrative part of selecting a consultant for a valuation service accounts for up to 10% of the effort required within the process. When a client needs multiple types of valuations, they will need to initiate a selection process for each of these services. With Valuation 360° we offer the possibility to contract all services in one process, from one place. In terms of actual valuation work, gathering and analyzing the necessary information is a phase in which client's the effort is the most sustained, accounting for more than 50% of their involvement in the process. And part of this information is common and necessary for all types of valuation. For example, when a valuation of real estate owned by a company and an impairment test for its equipment is required, real estate information is needed for both analyses. If the two analyses are done by professionals from the same team, the effort to provide information for real estate properties ishalved", adds Raluca Buciuc, Director and Partner of Valuation and Advisory Services at Colliers.
Also, the connection between the valuators in the team is immediate, which creates internal synergies that ultimately translate into a lower cost and the possibility of offering a competitive fee to clients. And another aspect that Colliers considers is the correlation of interpretations and valuation assumptions for different types of assets contributing to the same business, thus avoiding possible differences in interpretation and aggregation of information that can generate inconsistencies for customers.
Two experts with experience in Big 4 companies, Bogdan Mitroi and Alexandra Duma, complete the Valuation 360° team
With a multidisciplinary approach, the Colliers Valuation 360° team also has solutions for determining the value of a company's equity, the value of a financial investment in a company or line of business, determining the value of intangible assets, impairment testing (for goodwill, intangible assets, fixed assets), as well as providing assistance in the preparation and analysis of a business plan.
After 6 years in a Big 4 valuation team in the transaction advisory department, Bogdan Mitroi has recently joined Colliers to coordinate the Business Valuation and Fixed Assets area of the Valuations 360° service. His experience of  over 10 years in the real estate valuation market, both in banking and consulting for various purposes (loan guarantees, transactions, purchase price allocation, liquidation, financial reporting, tax), covers all types of valuations in Romania, from business, intangible assets, rentals, commercial and office buildings and projects, residential developments, land, industrial premises, shopping centers, to hotels and leisure. He is also specialized in valuation of equipment and movable property in various industries, such as oil and gas, production, metallurgy, automotive or energy.
He has a Master's degree in Energetics and a Bachelor's degree in Electronic Engineering and is a member of ANEVAR (National Association of Authorized Appraisers in Romania) with certifications in business valuation and intangible assets, real estate and movable property. He is also an accredited member of ANEVAR on real estate valuation (MAA-EPI) and a certified valuation reviewer for real estate valuation (VE-EPI), and since 2016 he is also an ANEVAR lecturer on real estate valuations.
Prior to her current position as Project Manager for Valuation and Advisory Services at Colliers, Alexandra Duma held a position as Manager for the Strategy and Transactions Department in a Big 4 company, focusing on business modelling and valuation projects in various sectors (insurance, biomass production and agriculture, retail, oil and gas, automotive, metals and mining, shipyards, asset management, e-commerce, optical distribution).
She has 12 years of experience in financial markets research and portfolio analysis and management, and has been involved in IPO projects in the local capital markets. Alexandra Duma holds the CFA certificate since 2014, and as an investment specialist and member of the Pension Fund Investment Committee, she has worked with the Investment Director in the day-to-day operations of the investment department.
Combining extensive industry experience with technical and financial expertise, the Valuation 360° team can provide, for any valuation purposes, valuation assistance and services for all types of assets, from commercial real estate, valuation of business and intangible assets, machinery, equipment and facilities and even capital market analysis. Colliers is the market leader in real estate valuation services, covering more than 60% of all residential properties purchased annually through bank loans and more than 60% of all commercial and office properties.
"90% of our clients are recurring, we assist them throughout the year, and we help them with specific information about the positioning of their properties in the market, market reports, exchange of information about their business and the impact of real estate market trends, etc. Technically, a valuation process of a real estate property composed of buildings and land, for example, takes about two weeks, but we are able to deliver a valuation report faster than this average time due to our thorough and up-to-date knowledge of the specific market and the properties we have in our valuation portfolio", says Raluca Buciuc.
The local market is dominated by valuations for residential properties (houses, apartments) in a proportion of about 70%, followed by land, office buildings and industrial, with about 5% each, this being a consequence of the fact that the valuations for the loan lending have the largest market share in terms of purpose of valuation. At the same time, in recent years the real estate development market has attracted more and more local and foreign investors who diversify their investments by buying shares or parts of social capital in local real estate development companies, and such an investment must be accompanied by a valuation of the company purchased or the package of shares / shares purchased. In addition to tax requirements, in such cases the need for valuation comes from two directions: the need for a substrate for negotiating or confirming transaction price and / or the need for a specialized analysis and correlation with market returns on the investing entity.