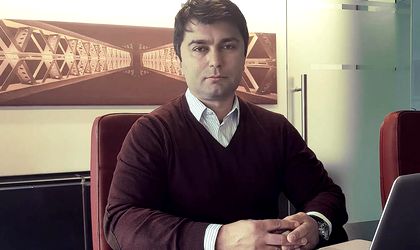 CColdwell Banker Romania, one of the biggest real estate consultants active on the local market, appointed Bogdan Voica as CEO, a consultant with over 15 years of experience on the local market and in the region.
Voica is a graduate of The Bucharest University of Economic Studies, Faculty of Finance and Banking, and of The University of Bucharest. Before starting his activity on the real estate market, the consultant was part of companies like Bancpost or Deloitte.
In his real estate carrier of over 15 years, Bogdan Voica collaborated, as an employee or independent consultant, with global real estate leaders, such as Jones Lang LaSalle, John Taylor, Globalworth, Skanska Commercial Development and NEPI Rockcastle – the last company before being appointed as CEO of Coldwell Banker Romania. In this period, the consultant assisted several developers from the initial investment until leasing and the selling process of the projects developed, being also involved in the turn around management of several distressed assets.
"Joining Coldwell Banker Romania's team represents both an honour and a challenge. In addition to maintaining the leading position on the residential market, one of our objectives in 2018 is to strengthen it and to territorial expand, but also to develop the activity on market segments less explored recently by Coldwell Banker in Romania, such as commercial property advisory, segments where Coldwell Banker is globally perceived as a preferred agent by medium-sized real estate investors. We will implement new technologies and marketing techniques in the processes of representation in the projects we are involved in, keeping a personal touch in the relationship we have with our partners", said Bogdan Voica, CEO Coldwell Banker Romania.
Coldwell Banker Romania registered in 2016 a consolidated turnover of 5.6 million Euros, being one of the biggest real estate consultants active in Romania.
Coldwell Banker Romania is active on the Romanian market for 12 years and is the real estate consultant with the most extended activity on the residential market, being the project manager and exclusive agent for over 15 residential projects from Romania, among who are Aviatiei Park, Baba Baba Novac Residence, Belvedere Residences, Cosmopolis, Estic Park and Onix Park in București, Doppel Cristian, Sânpetru Residence and Transilvania Residence in Brașov and Belle Ville and Grand Hill Residence in Cluj – Napoca.
With a history of over 110 years, the American company is owned by Realogy Corporation, one of the biggest global real estate franchisor. Through its network, Coldwell Banker is present in 50 countries across the entire Globe, having 3,000 offices and over 86,000 brokers and real estate consultants.