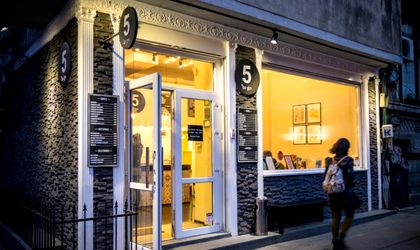 5 To Go, the biggest coffee chain in Romania that also has a franchising platform, has launched a new campaign aiming to support and promote local entrepreneurship called "5togo. Made in RO."
The initiative puts the spotlight on businesses and local entrepreneurs that have been collaborating with 5 To Go during the years.
"5 To Go is a brand 100 percent Romanian, and this campaign was created to thank the people and firms that have helped us right from the start and due to whom the coffee chain has recorded an impressive development in a short period of time," said Lucian Badila, the co-founder of the chain.
Radu Savopol, also co-founder of 5 To Go, added that the chain has contributed to the creation of over 25 new companies and tens of jobs in the local community.
The campaign has kicked off with Laura Poenaru, local entrepreneur and franchiser 5 To Go Craiova, and Calin Tiplea, representative of B&B Group. It will continue for the next six months.
"I have looked for information and then it took some time until I got in touch with the 5 To Go. After a while we met, and the initial conditions for the business were not that favorable, but Radu and Lucian came to see the location we had selected and the things changed. In conclusion, I chose 5 To Go because I liked the concept, I like coffee and because I wanted to do something new in my city," said Poenaru,
Meanwhile, Tiplea works for B&B group, which has been supplying the coffee to 5 To Go right from the start.
The group is the exclusive importer of Bristot and Vescovi coffee brands in Romania, being also a strategic partner of 5 To Go.
"The success of 5 To Go in Romania and its speed of development makes us understand better the behavior of consumers," said Tiplea.
The coffee chain currently has 45 units across the country.