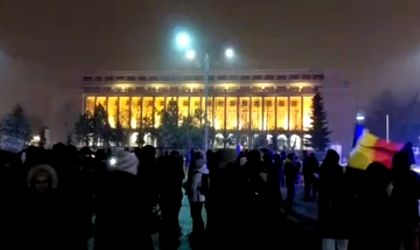 Around 3,000 people took the streets in Bucharest on Sunday evening to express their support for the National Anti-corruption Directorate (DNA) as the minister of justice, Tudorel Toader, initiated the procedure to replace its chief prosecutor, Laura Codruta Kovesi.
The crowds of people battle the freezing cold near the government building and are asking for Toader's resignation. They are also shouting "Thieves, thieves" and "We don't want to be a nation of thieves."
One group of protesters carried a banner that read: "We support the DNA and the independent judiciary. Codruta, keep it up."
Several hundreds more protesters gathered in other cities across Romania such as Iasi, Bistrita and Ploiesti.
This is the second time this week that people gathered to express their anger at Toader's plan to remove Kovesi from the helm of Romania's main anticorruption institution.
Toader's move triggered a reaction from the European Commission, the executive arm of the EU, which stated that Romania has to keep the independence of the judiciary and to fight against corruption effectively.
The minister presented an assessment of the DNA's activity in the past year. He went on to accuse Kovesi of managing the DNA "through excess of authority, discretionary behavior, by defying the activity of the Parliament and by challenging the decisions of the Constitutional Court and its authority."
Kovesi said that she is ready to answer to all the points raised by Toader. Meanwhile, president Klaus Iohannis said he was satisfied with DNA's activity, adding that the Presidential Administration will have to analyze the assessment report presented by the minister of justice.
The president will have to decide whether he accepts or rejects Toader's request to dismiss Kovesi, who has been leading the DNA since 2013.
With Kovesi at the helm, the DNA prosecuted dozens of high-ranking officials in the public sector, including MPs, mayors, president of local councils and a PM. The heads of the ruling coalition PSD-ALDE were also put on trial following investigation carried out by anti-corruption prosecutors.
Business Review presented the perspective of the private sector regarding the ongoing efforts of the government to remove Kovesi from the DNA.