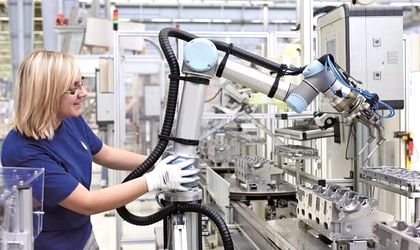 Cobotware, a tech start-up in Bucharest, has begun a collaboration with Universal Robots – the company which invented collaborative robots, also known as cobots – and are offering automation solutions for production based on the newest available technologies.
The demand for such technology is growing due to the relative lack of specialised workforce and the need for the growth of industrial production.
According to Cobotware representatives, the highest demand for cobot-based solutions come from industry – auto, electronics as well as plastic mass and general consumption goods.
Adrian Dumitrascu, general manager at Cobotware: "Entrepreneurs and managers in Romania are demanding concrete details, they want to know how quickly we can optimise certain processes, so that they can increase production without affecting product quality. Universal Robots cobots can be rapidly installed, and they are easy to operate – staff training takes only a few hours and there is a high level of security during exploitation.
Universal Robots cobots help us offer personalised services for the clients' requirements so that we can deliver the entire project on time – analysing automation activities, transforming them into a robotised process and delivering the robotic solution that is ready to use. We estimate that 2018 will be a year when the upgrade of the Romanian industry's technology will attract more investments than ever before and will reach every sector. Everyone is talking about objectives for 2020, but the investments need to be made in 2018".
Horia Stanese, director of development at Universal Robots, said: "Colaborative robots from Universal Robots have a reduced cost compared to industrial installations, they are easy to install, flexible, require no specialists for programming and free employees from the burden of repetitive or even dangerous tasks. They are part of Industry 4.0, the industrial concept which benefits from the development of the internet, cloud technologies and artificial intelligence".
More demand for robots in industry
Managers and entrepreneurs rely more and more on automation and robotics solutions to increase production levels and lower costs, while the right employees are harder and harder to find. According to the study "Automation in Romanian companies" done by iVox for Universal Robots, 34.7 percent of respondents have said that they intend to acquire, in the following 12 months, new automation/robotics solutions for the company in which they work. The main reasons are the need to reduce costs and increasing production, but at the same time 54.5 percent of respondents think that they would need specialist help.