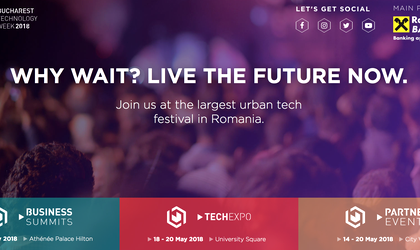 Ilyas Vali, co-founder of rLoop, winners of the Innovation award at SpaceX Hyperloop competition, is one of the guests attending the Bucharest Technology Week. 
rLoop, with a presence in 59 countries, and over 1300 engineers including from Nasa, Google, Tesla, Facebook and Apple, will attend Bucharest Technology Week build several hyperloop prototypes and demonstrate the most advanced levitation technology that exists today. rLoop is the winner of the Innovation Award SpaceX Hyperloop, the 2015-2017 edition.
Ilyas Vali's presentation at Bucharest Technology Week will focus on blockchain and decentralization and their potential to allow for collaborative development of High Technology. He'll also explain how blockchain technology can help us overcome the 'innovation bottleneck', starting with the Hyperloop and introducing for the first time their latest project rFlight.
rLoop is using a decentralized approach to making other advanced technologies possible by focusing on the "future of work" approach – and using blockchain technology to enable their processes as a totally remote crowdsourced organization.
"Their story began in June 2015, when PayPal, SpaceX and Tesla entrepreneur Elon Musk announced a competition.The challenge was to develop pods for his proposed Hyperloop transport system – which Mr Musk likens to a cross between Concorde and an air hockey table. These pods are meant to rocket down a frictionless near-vacuum tube at speeds of up to 1,220km/h. A passenger jet has a cruising speed of about 1200 km/h.", BBC said about rLoop.
rLoop started as a sub-Reddit  on the community site Reddit. Now, they are a crowdsourced organization and the only hardware organization on the Blockchain, utilizing the Blockchain as a foundation on which to build advanced engineering and design solutions across the globe, with the first focus being the Hyperloop and how its technology will fundamentally change cities and the way people work, live, and commute.
Hyperloop technology
Hyperloop is a conceptual, high-speed transportation system initially proposed by Elon Musk. The concept consists of passenger and cargo pods being propelled at up to 1200km/h in a low pressure tube using sustainable and cost-efficient energy. To accelerate its development, SpaceX hosted a competition for engineering teams to design their own hyperloop pods and test them at their facility in Hawthorne, California.
The concept makes us imagine a world where a distance traveled today by plane for an hour and a half would be reduced to less than 30 minutes. Suddenly, the distances to work or for vacations would not take so much time. Theoretically, we could live almost anywhere and work in an other part of the country or even the continent.
The prototype projects for the future of transport developed by rLoop engineers include other forms of space mobility such as rFlight, sponsored by Boeing. rFlight is a personal flight device designed to provide a safe and thrilling experience akin to a bird in flight, a motorcycle of the sky. All projects are available on rloop.org.
Access to Ilyas Vali's conference is based on registration on www.techweek.ro.