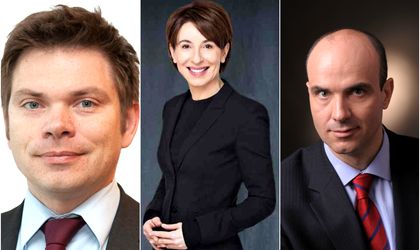 Last week the international law firm CMS Romania, in cooperation with executive search firm Pedersen & Partners, hosted their South East Europe Private Equity Breakfast. The event brought together some of the key players in the world of private equity, from Romania and across the region, and featured a panel discussion on private equity trends in SEE.
The panel discussed the outlook for private equity in South East Europe (SEE), high opportunity sectors, challenges of managing portfolios and exit strategies for funds, geopolitical factors that influence investments in the region, and the appetite for investing/expanding portfolio companies internationally.
The panelists agreed that while there are opportunities across sectors and throughout SEE, the high opportunity sectors in Romania are healthcare, consumer products, e-commerce and logistics. There was also a consensus on the short and medium term outlook for private equity throughout the region, with most panelists optimistic about the current market and future opportunities. Although the market is performing well, stability and predictability will continue to play an important role, given the geopolitical characteristics of the region.
Horea Popescu, CMS Corporate partner and head of M&A in Romania said: "The discussion indicates that the economy, which was just starting to pick up last time we held this event, is booming and that the current investment reality and optimism of investors, both locally and regionally, shows that opportunities abound. We hope to see further increases in the number of deals and deal sizes in the year ahead."

Mona Neagoe, partner and Country manager for Romania at Pedersen & Partners adds: "The talks reconfirmed investment funds' interest in Romania, as well as a moderate short-term but solid long-term optimism, closely related to the predictability and size of the market. As compared to the previous years, there seems to be more flexibility for smaller tickets. The distinction between buying a business and buying a company, and the generational exchange in the Romanian entrepreneurship, were exciting debate points."
Gabriel Sidere, managing partner of CMS Romania, said: "Last week's discussion indicates the importance of CEE and SEE to investors and I am keen to see even greater interest in the region from foreign investors in the coming year. Thanks to the diversity of panelists, drawing on their deep expertise, the panel facilitated an in-depth and pertinent analysis of the local and regional private equity markets."
The event was attended by more than 100 guests, and the panel included experts from ForeVest Capital Partners, Mid Europa Partners, NEPI Rockcastle, Rothschild & Co, UniCredit and Value4Capital.