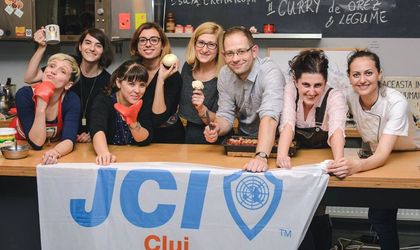 Food Waste Combat, the JCI Cluj awareness and food waste reduction project, became the best local social responsibility initiative in the global network JCI, the international non-governmental organization that reunites almost 200.000 youngsters involved in the community, from over 120 countries.
Romanita Oprea
The award ceremony took place at the JCI Global Congress in Amsterdam where were present thousands of representatives and delegates from almost all the world's countries. It's for the first time when at a global JCI congress a project from Romania is awarded. At the congress was also present Kofi Annan, former ONU general secretary and former JCI member.
"This award motivates us even more to continue the awareness and food waste reduction initiatives in Romania. It's a great joy to be awarded at a global level. The received accolade proves us again that the theme is one with global interest, that is worth uniting our forces and continue to take action. We have big plans for next year. We want to work together with the supermarkets, consumers, restaurants, mass-media and to get involved from the legislative point of view in the food waste issue. We have a dedicated team formed exclusively of young voluntaries and alongside us we want to bring in this field the institutions, stores, restaurants, schools and, of course, consumers' representatives," said the JCI Cluj's president, Corina Brandusan.
The Food Waste Combat team prepares the closing of partnerships with commercial networks with the help of whom to use the food with expiration risk and to direct it towards the beneficiaries in Cluj, from unfavorable mediums. Moreover, the project's members will launch a restaurant waste audit campaign, a food consumption guide and will continue the informational campaigns in schools.
At the same time, the JCI Cluj members have recently initiated a new public debate of the law regarding the food waste reduction and will propose the creation of national informing campaigns on the main media channels.
"This year was a real roller coaster. We've started with community dinners – events were we cooked in the community, only from vegetables and fruit saved from being wasted. We caught enough courage and enthusiasm to continue and to create strategy that received the TEDx Heroes award this Spring and EUR 4.000 offered by Arobs Transilvania Software. 2017 represented for us four community dinners and helped offered to a night shelter in Cluj, the presence at three festivals in Cluj, education campaigns and practical Food Waste Combat workshops in three schools. We are a team of 10 volunteers and we have alongside many people that offered their support, collaboration and their pro-bono services for the fact that they also believe in our cause. We are collaborating at the moment with teams that create waste reduction mobile apps (JustNow and TimeToEat Romania), with lawyers and activists, with people involved in research projects," said Cami Gui, project manager Food Waste Combat.