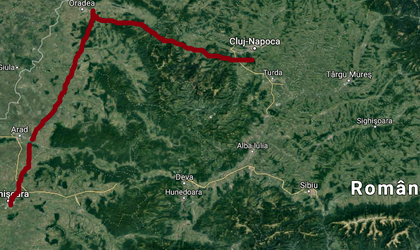 The mayors of the four major cities from the western part of the country – Cluj-Napoca, Timisoara, Oradea and Arad – so-called Patrulaterul Vestului – have created an alliance that aims to improve the cities' connectivity through highways and high-speed railways, as well as to improve their collaboration on other large-scale projects.
For future projects, the mayors will not use money from the budget but they will attempt to finance their projects directly from Brussels.
"We, Nicolae Robu, Gheorghe Falca, Ilie Bolojan and Emil Boc, the mayors of the cities of Timisoara, Arad, Oradea and Cluj-Napoca, have decided to establish the Patrulaterul Vestului, an informal forum for exchanging ideas and experience, and cooperating on large projects, primarily high-speed and cultural connectivity. We propose that this structure be a framework to help us initiate together major infrastructure projects, especially to improve the connectivity between the four cities – high-speed rail, highways, expressways – and cooperation in the fields of culture, education, health, tourism, sports, security. We also want to give a national example of cooperation to address large projects that are inaccessible to everyone," the mayors stated.
According to Timisoara mayor Nicolae Robu, it is well known that the European Union also has major projects for which money can be earned directly from Brussels. There are several sources of funding and we want to get to them and start working effectively within this quadrant of the West.
"The four cities have signed a working document. Then we want to sign with other mayors. There are four major themes, one is the European Capital of Culture. The culture can be extended to all the beautiful areas of Caras Severin, to the historical potential of Hunedoara, to the wines from Arad, to the thermal waters of Oradea, to the tourist potential of Cluj-Napoca," claims Gheorghe Falca, the Arad mayor.
In turn, Ilie Bolojan said that partnership is also very important for Oradea in terms of connectivity, because there is a very important link between these cities.
The mayors announced their collaboration in Timisoara, at an event called Urban Talks organised by UrbanizeHub, which also featured experts from the World Bank and the European Commission, international experts from the Netherlands, Sweden and Finland, leaders of the public administration and the business environment.