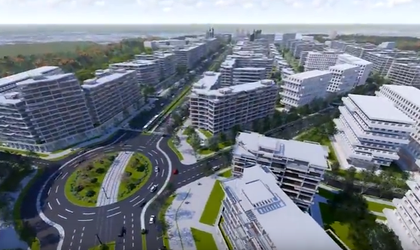 Present at Expo Real Munich real estate fair, Bucharest's District 5 City Hall launched the revitalization project of the Antiaeriana area. The City Hall is looking for investors for housing and office buildings, to develop them in a public-private partnership. The new neighborhood will be developed on an area of ​​110 hectares, for which the authorities signed a grant agreement with the World Bank this spring.
The District 5 City Hall has launched the largest urban development project in Southeastern Europe, according to the World Bank. The project was named Antiaeriana – Bucharest Centenary Project.
Nearly 25,000 dwellings want the City Hall to build in the area, of which the first 14,760 are financed by the Government. Another 10,000 dwellings would be built in a public-private partnership, according to Mayor Daniel Florea.
The new neighborhood will be developed in three stages:
first, elaborating urban plans and launching international contests for urban development solutions;
launching publicly funded projects for which Sector 5 already has approved government funding for the construction of 14,760 housing units, the construction of a maternity ward, the construction of a multi-purpose room and an Olympic swimming pool. On 02.10.2018 the land was handed over to the National Housing Agency to start the construction of the first eight blocks;
the final stage will be implemented simultaneously with the second one, involving the launching of public-private partnerships for the construction of at least 10,000 dwelling units, the construction of office and business facilities, the construction of public facilities and recreation areas.
The neighbourhood launched by the authorities will have a boulevard – the Centenary Boulevard, which will complement the median ring of the city center of Bucharest and will include the construction of 6,800 apartments.
There will also be an area of ​​300,000 square meters of office buildings with over 28,000 employees. On an area of ​​6.5 hectares, ANL dwellings will be built, and another 15.8 hectares of individual and collective dwellings. The project also includes a market of 176,000 sqm with a 37,000 sqm pedestrian area. A multi-purpose hall with a capacity of 5,500 seats will also be built.