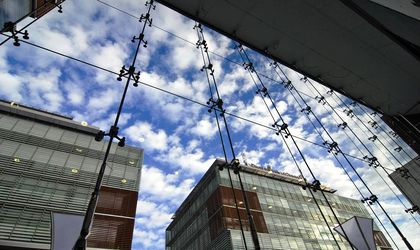 ModaTim Investment, the developer of the City Business Center Timisoara, the largest office building complex in Western Romania, reported EUR 2.6 million in revenue from rents in 2010. this is 13 percent up compared to the previous year. The number of people working in City Business Center Timisoara grew from 1,300 to over 2,000. The A and B buildings are now 95 percent occupied.
"The relocation of the Finance Division HQ close to the complex generated an increased interest for our spaces from various players in the finance and banking industry," said Ovidiu Sandor, CEO of ModaTim Investment.
After the opening of the C building in November 2010, the rentable surface increased to 25,087 sqm, with the average occupancy rate being of 90 percent. Several companies already  renting in CBC have expanded their presence: Alcatel-Lucent, Microsoft, Autoliv, Visma Software or Cmed. New tenants are Wipro Technologies, Raiffeisen Bank and BCR, totaling 5,800 sqm in rented space.
"For this year we estimate an increase by EUR 1.3 million of revenue from rents (almost 50 percent), generated from the use of the 9,776 sqm of the C building throughout the year," Sandor explained.
Construction works for the fourth building in the complex have started this year. It is expected that it will be functional in June 2012. It will have a 9,500 sqm rentable space, and is being built under an investment estimated at EUR 11 million. Almost half of the sum is being financed with European funding.