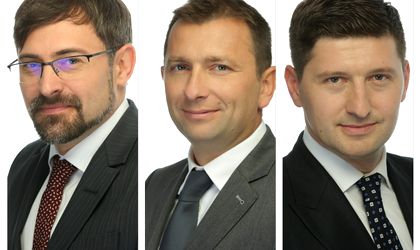 At the end of this year, CITR celebrates 10 years of existence on the Romanian insolvency market and appoints two new managers in the team so that Andrei Cionca, the founder will dedicate only to the president of CITR function, developing the investments division.
Starting 2017, Vasile Godinca-Herlea will be the CEO of CITR. He is a lawyer and insolvency practitioner with over 13 years in the field, coordinating 150 insolvency projects. He has contributed to the elaboration of regulations in this field. In the last years, he has been the managing partner of CITR.
"This new responsibility comes in a moment when the insolvency market is confronted with big challenges. As our frequent analysis proved, the number of insolvent companies is decreasing dramatically, but their impact in the Romanian economy is in growth. In this context, Romania's economy needs increased support to cope with the  businesses rectification. We believe that our experience in the over 850 managed companies is an important capital for the local business environment, where more than half of the impactful companies are in a difficult situation, " said Herlea.
Alexandru Tanase, managing partner for Transilvania region has over eight years experience in corporate banking and over five years in insolvency, is the other person who'll complete the management team.
Today, CITR team is formed of 120 specialists, who managed over 850 projects in nine branches in all the country and manages a patrimony of over EUR 650 million and fixed assets of over EUR 4 billion.
Georgiana Bendre