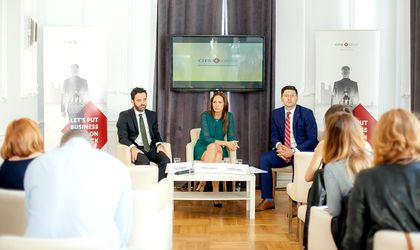 According to a CIT Resources study surveying Romanian companies between 2013-2015, despite the fact that Romania is experiencing a steady economic growth, the number of companies with a real impact on the Romanian economy is decreasing. Moreover, CITR warns, under a business as usual scenario, the number is expected to drop to 15,000 in 2018, from 19,564 in 2015 and 23,384 in 2013.
Evenmore, out of the 3 percent of Romanian companies that have a real impact on the economy, 50 percent are experiencing difficulties. That is why, Romania's economy, although it is performing well, is growing on a very narrow foundation, study authors say. However, CITR representatives argue, opportunities lie with companies that are experiencing financial distress, and investors should look there for business opportunities, although it might seem counterintuitive.
The study took into account the financial reports submitted by the companies at year-end and includes companies that have total assets of over EUR 1 million and are not in insolvency. The analysis also includes state-owned companies, and excludes NGOs, banks, insurance companies, brokerage companies and pension funds, whose financial situation is different from other companies.
The study shows that, for at least three years, we are witnessing a paradox of the Romanian economy: despite recording the biggest growth rate in Europe, the insolvency field remains very dynamic. Only in 2016, the total debts of the 314 companies analyzed that entered insolvency stood at EUR 2.4 billion, representing the equivalent of 1.5 percent of the GDP. The share of 'healthy' companies and that of companies with issues is almost equal.
"For the period 2013-2015, the study indicates a concentration towards the top of companies in Romanian economy. The number of companies with an impact decreased, however they are producing more, are more profitable and are using less employees. In other words, the pyramid of the Romanian economy is higher, the top is sharper, and at the bottom there can be seismic activities capable of destroying the entire system. Annually, over 1,000 of the important companies in Romania are losing their relevance, because they become smaller – their assets are dropping below EUR 1 million," CITR CEO Rudolf Vizental said.
Investors should turn to companies in distress for business opportunities 
Despite that, CITR representatives argue, investors should look to companies in financial distress for business opportunities. Moreover, managers whose companies are in financial distress or have failed should not be pidgeonholed. Conversely, and their experience should be regarded as an asset. According to Vizental, "entrepreneurs who experienced failure are more efficient, more cautious of danger and estimate correctly the risks and opportunities. As such, they are an invaluable asset for the Romanian business environment. Moreover, companies with an impact on the local economy that are in distress cannot become healthier in the absence of investments, of turnaround strategies and of the support at community level." The Romanian economy needs local entrepreneurs, and currently, the economy does not provide enough new entrepreneurs that can compensate for those who have tried and failed and are not willing to start over, CITR managing partner Alexandru Tanase explained. 
According to Vizental, foreign investors believe Romania is an attractive destination, but very few deals are made, because, although the economy and the legislation meet their expectations, they find it difficult to identify concrete cases to make deals.