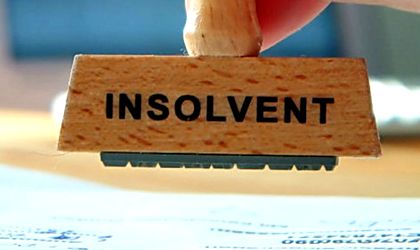 In 2017, the number of Romanian companies with a major impact on the economy went into insolvency decreased by around 7 percent from the previous year. However, the value of privately owned major impact companies that were in insolvency was EUR 1.22 billion at the end of 2017, a 15 percent increase compared to the end of 2016.  
Major impact companies are those companies with assets of over EUR 1 million, which generate around 70 percent of the turnover at the national level, and are the engine of the domestic economy, according to studies by CITR group.
At the same time, the total number of Romanian companies which entered an insolvency procedure grew in 2017 by around 9 percent from the previous year (from 8371 to 9102).
In this context, it is important that once a major company goes into insolvency, efforts are made towards identifying restructuring solutions, whether they are external funds or operational/financial restructurings, in order to be able to have a healthy return into the economy.
The total major impact insolvencies in 2017 involved 14,200 employers, which was 25 percent fewer than in 2016.
The areas of the country with the most major impact insolvencies based on the number of employees of the companies were: the south, including Bucharest and Ilfov (8,100 employees) and Transylvania (5,300 employees). The counties with the most impact insolvencies in 2017, after Bucharest and Ilfov, were Prahova, iasi, Sibiu, Constanta and Arges.
In 2017, the main insolvencies based on the value of the immobilised assets were: Galaxy Tobacco, Chemgas Holding Corporation, Bio Fuel Energy (Interagro Group), Romcab, Carpatica Asig, Upetrom 1 Mai. These companies have a total value of immobilised assets of over EUR 345 million and they employ a total of 2,100 people.
The sectors with the most impact in the insolvency market in 2017 are still industry and services. Industry has 29 percent of the major impact companies entered into insolvency last year, 35 percent of their turnover, 48 percent of the immobilised assets and around half of employees.
In terms of industrial sectors, the chemical industry had only 4 major companies in insolvency, but which together had assets of EUR 156 million. In the second place by asset value is the food industry, with 14 companies in insolvency and EUR 153 million in blocked assets. The goods and materials manufacturing industry follows, with 12 companies with assets of over EUR 98 million. The energy industry had 12 major impact companies go into insolvency, with a total of EUR 86 million in immobilised assets.