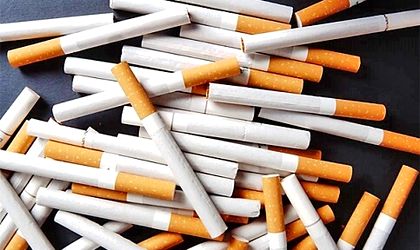 Romanian authorities have prevented almost 150 million contraband cigarettes from reaching the Romanian black market. The value of the captures was around RON 80 million, according to data gathered by British American Tobacco.
Ileana Dumitru, Legal and PR Director at BAT, stated that the contraband cigarettes captured this year represent around 3 percent of the entire black market in Romania, which means that the country is far from having found a solution to this problem. Last year, 4.5 million illegal cigarettes were consumed in the country. In the absence of a better coordination of actions taken by authorities, says Dumitru, "Romania will continue to be one of the countries in Europe which are most exposed to contraband".
The company created a ranking of the regions in Romania where the highest amounts of contraband cigarettes have been captured. At the top of the list were the South-East (47 million cigarettes), North-West (29 million) and North-East (28 million) regions.  The fewest illegal cigarettes were found in the South-West region, with only 3 million units.
The South-East region, which includes the Constanta and Mangalia ports, had the highest number of illegal cigarettes, found by the Coast Guard. The 2017 numbers were among the highest in the last 5 years.
Throughout 2017, the North-East region was the most affected by cigarette contraband. Illegal cigarettes in the six counties in this part of the country had, on average, a 37 percent market share.
BAT's 'Stop Contraband' campaign also provided a number of worrying facts about cigarette contraband in Romania. For example, we learn that Romania has the second highest level of cigarette contraband in Eastern Europe, after Poland, and among the highest levels in the whole EU. Romania has around 2,000 km of border with non-EU countries, where the price of tobacco can be up to 6 times lower.
Illegal cigarette trafficking creates an annual loss of more than EUR 650 million. Over the last 7 years, the Romanian state has lost EUR 4.8 billion due to this practice, and the black market grew by 27 percent between 2011 and 2016.