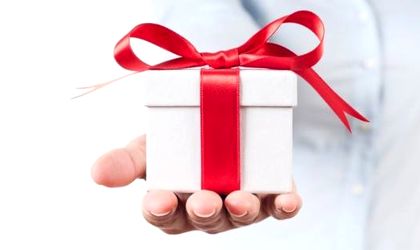 Less then two weeks until Christmas and the lights are on, the parties have started and it's a bit bone-achingly cold. The most wonderful period of the year has arrived in Bucharest, when most central city streets suddenly acquire a sparkle and spontaneous caroling is on the order of the day. Now we are revealing Business Review's Christmas shopping guide. Merry Christmas, one and all!
Bucharest shopping guide: unusual homeware
Atelier Anda Roman
Creativity meets a passion for beauty at this concept store, housed in an innovative, avant-garde space. Atelier Anda Roman is a subtle blend of innovative design, where items "converse and create emotions", to produce creative living rooms, dining rooms, bedrooms, children's rooms, office spaces, kitchens and even bathrooms. With products sourced from France, Belgium, Holland, England, Italy and even local producers and antique markets, the boutique showcases furniture, decorations, toys and fabrics, everything served with a green tea, coffee or gingerbread.
42 Grigore Alexandrescu Street, www.andaroman.ro
 Atelier Kiku
The brand is recently on the market and was brought alive for the passion of lighting, crafting and colouring. The Christmas shopping list looks incredible good and quite innovative, so you might want to have a look.
Cerdak
Have you heard of the City of Lost Smiles? If not, maybe it's about the time to check it online, on Cerdak website, where the stories are coming alive in unusual home ware. Maybe some of their cushions, lighting or illustrations will suit your home. Go check it!
Dizainar
This store offers a wide variety of designer products for those interested in decorating homes and offices with Romanian-made pieces of art. Dizainar's portfolio is comprised of over 200 pieces from furniture, lighting, clocks and graphics to personal accessories, decorations, toys, glassware and ceramics which come from more than 130 designers.
17 Putul cu Plopi Street, www.dizainar.ro
Iconic Food Wine & Design
With a focus on classic, high-quality design, this airy and minimal outlet is nonetheless unselfconsciously warm and friendly. Housed in a discreet and elegant villa in the Aviatorilor area, this is a space where passion for aesthetics and rules of style prevail. Choose from unique interior design objects, gifts for the home, fashion and beauty items, wine and gourmet foods and, last but not least, a selection of books and magazines dedicated to relaxation. The showroom includes brands that are available in Romania for the first time, such as Fornassetti, Ingo Maurer, Palucco, Edra, Jars Ceramics, Lara Bohinc, Uncommon Matters and Hermes Vintage.
7 Aleea Alexandru, near Victoriei Square. www.iqonique-cs.ro
Pierrot
Interior and garden ornaments, gift ideas and Christmas decorations all under one roof. This store stocks beautiful objects, carefully put together and inspired by various traditions. They bear the names of famous interior design companies from Italy and Germany such as Wald, Shan, Hoff Interieur and Drescher, found exclusively at Pierrot. The product range is wide, running from porcelain from the exclusive Villar collection, inspired by Italian baroque, to affordable products, both contemporary and traditional. The store is a rich source of gift ideas from scented candles and Swarovski crystals to traditional Christmas decorations.
1 Intr. Biserica Alba. www.pierrot.ro
Mesteshukar ButiQ (MBQ)
Mesteshukar ButiQ (MBQ) is a network of social economy enterprises aiming to revalue traditional Roma craftsmanship. The pieces are made with clean raw materials, craftsmanship passed from generation to generation, skilful hands and an immediate major utility. Most of the products are copper made, designed by Roma craftsman Victor Clopotar together with the Viennese designer Nadja Zerunian.
7 Edgar Quinet Street, www.mbq.ro
 Tomvalk
This online store offers a wide range of wooden roll pins with different decorations for those who are having fun baking cookies. Also, the online store consists of other presents, such as perfumes or bags. Take a look, you will definitely find something to buy.
Oana Vasiliu