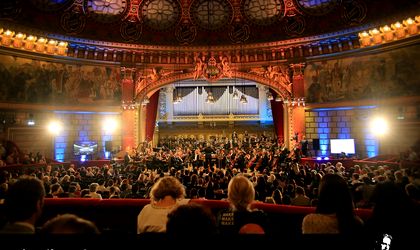 Tian Tian from China is the winner of tge Symphonic Music section within the George Enescu Competition and Caterina di Cecca from Italy was the winner at the Chamber Music category.
Overall, 34 young musicians subscribed their works for this year's contest. The jury that selected the winners was formed by Zygmunt Krauze, president of jury at Composition section,  Tim Benjamin, Dan Dediu, Adrian Iorgulescu, Peter Ruzicka, Hubert Stuppner and Cornel Taranu.
During August 15-25, the jury analyzed and judged the compositions. Independently, every member of the jury marked each composition and the winners were declared the ones who had the highest marks from Symphonic Music and Chamber Music.
Between September 3 and 25, 196 young artists around the world come to Bucharest within the International Competition George Enescu. The prizes have a total value of EUR 115,000, with the opportunity of performing on the Enescu Festival stage.
The Enescu Competition brings together jury members, awarded singers from previous years with an international career and the winners of the competition from 2014.
Georgiana Bendre