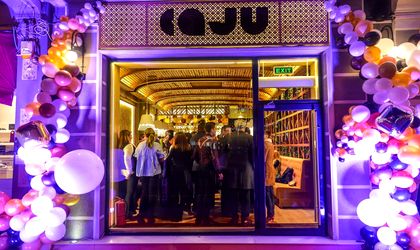 Chef Joseph Hadad launched the brasserie CAJU by Joseph Hadad alongside 200 friends, journalists, partners, suppliers and the team. The concept of the CAJU brasserie is casual, with accessible prices, targeting a large clientele. It's the place where Joseph proposed himself to bring to the table his childhood, with strong North African influences. The name "Caju" is symbolic, representing his passion for gastronomy, as well as the details that make the difference in the preparing of the food.
Hadad worked at the menu of Caju for almost three months. The menu includes around 40 meals divided into snacks, hot snacks, main course and some recipes of dessert, created by the chef, the intention being to cover as many tastes as possible with the aromas and the spices, specific to the Mediterranean cuisine.
"I've been dreaming for a long time to open a brasserie in the city's center, in which to bring in the gourmets' attention the food of my childhood, a symphony of aromas and condiments and at the same time a very simple one. I wanted to reach also the people that don't come to Joseph, to offer the possibility to as many as possible, not only the ones with high income, to eat the food made by me. I am glad that the time of the launch coincides with my birthday, therefore for me it represents a double reason of joy and personal and professional satisfaction," said Joseph Hadad.
The travel in the world of taste starts since entering the brasserie, where the stoves are placed in which the Moroccan focaccia is baking in aromatic herbs. The menu includes also popular recipes, all of them with the Chef's mark. It will include beef burger with French fries, salmon fettuccine a la creme flavored with cu vermouth, potatoes gnocchi with comfit chestnuts and vegetable dressing with a bit of truffles, tagliatelle with prawns or ragu of veal with mushrooms and vegetables with demi-glace dressing, and for dessert pineapple ravioli with patisier crème and vanilla foam or chocolate tart with mango sauce and crumbles of chocolate.
"I deeply want to reach as many people as possible with the tastes that I am creating and for them to feel at Caju as if they were home. In the Caju's menu I've put all my emotions and all my dear memories from the time of the meals savored with my family. In the menu one can find hundred years' recipes, reinterpreted by me in a modern manner," also added Joseph Hadad.
The new brasserie is located in Bucharest's center, on Nicolae Golescu street, behind the Romanian Athenaeum. The design project was created by Grosu Art Studio – architects Victor Grosu and Adrian Ianculescu.
Romanita Oprea