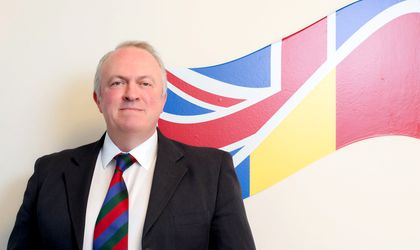 Charlie Crocker, CEO of the British Romanian Chamber of Commerce (BRCC), says that Romania is on the watchlist of UK investors. He predicts more British investments in the IT, agricultural, and food and drink sectors, adding that Romania is a strategically important market for the UK.
Anda Sebesi
How do you see bilateral economic relations between the United Kingdom and Romania and have they developed over the past few years?
I think there is a strong bilateral economic and cultural relationship between the UK and Romania. In the last couple of years, we have seen a significant increase in the number of Romanian businesses investing in starting their activities in the UK, particularly in the IT&C sector. At the same time, the number of UK imports to Romania was one of the fastest growing from the EU, up 17 percent from 2014-2015.
How do you describe the local business environment with its strengths and weaknesses? Would you say that there have been improvements, or on the contrary a worsening of market conditions over the past year?
I think there is a vibrant local business environment and this is shown by a strong recent and projected growth in GDP as well as an active increase in retail sales. There have also been some significant improvements in market conditions, for example the work being done to bring about greater transparency in the public sector and the fight against corruption are helping ensure a more level playing field. The BRCC has supported these efforts by also building awareness of the Bribery Act within the local business and public environment, through projects, partnerships and an active communication strategy with multiple public and private institutions across Romania. Our expert advisor in this important activity is Neil McGregor a vice-chairman of the BRCC. Reductions in VAT and a more competitive corporate tax structure have also helped. Finally, the recent establishment of a reliable, transparent new court of arbitration, called the Bucharest International Arbitration Court, will bring certainty to the resolution of contractual disputes in Romania.
How attractive is Romania to British investors and why would you recommend Romania as a destination for investments?
Romania is a strategically important market for the UK. I would strongly recommend it as a destination for investments; it is geographically important with the largest commercial Black Sea port and access to over 120 million consumers in Central and Eastern Europe (CEE).
Romania is one of the largest markets in CEE; it offers a highly skilled workforce, with a strong network of excellent universities providing a steady pool of technically qualified graduates. The first language in Romania is English and the British brand is very strong in Romania, with a reputation for quality and reliability. In short Romania is one of THE destinations for investments and as Romania moves from frontier status to emerging market this will open up many more opportunities for institutional investments in the local capital market.
What is the future of British foreign investments in Romania? What areas are of interest to potential new (British) investors in the country and what is their profile?
We see a bright future for British investments in Romania. Romania is becoming more visible for British business investments. We see potential investments from the tech sector and tech city into the Romanian IT&C market including near-shore BPO and shared service centers. We also believe that there are many opportunities for the UK food, drink and agro sectors, as well as potential for institutional investments from the City of London and the capital markets.
How competitive is Romania (in terms of attracting foreign investments) in a regional context? is it losing ground in favor of other countries in region? And if so, what should be done in your opinion to improve its status?
Romania has a strategic geographical position in the region and has been seen by many major multinationals and investors as the South Eastern European hub for cross-border trade and business. There are challenges to Romania realizing its true potential, notably lagging infrastructure. There have been notable improvements, however, in the development of regional airports.
Given the fiscal cuts announced/enforced by the government, the public sector wage increases and recent comments such as that made by governor Isarescu who said Romania is facing a "severe systemic risk" for the first time since 2006, would you say that the local economy risks repeating a scenario similar to the 2008 crisis?
I believe that this is heavily influenced by the global economic situation as it was in 2008, and although local conditions may have some influence they are not as big a risk as the potential for a future global economic crisis.
The BRCC through its vice-chairman Neil McGregor is working with the Romanian
Ministry of Justice on the new anti-corruption National Strategy. What will BRCC's contribution to this official document be?
Being a British solicitor and compliance expert, Neil is able to explain to the ministry the approach taken in the UK to creating corporate cultures which discourage and prevent corruption and to provide concrete examples of how this is applied in practice. We hope that other companies in Romania will operate according to the same rules as those that apply to companies with a business presence in the UK, with the widespread adoption of corporate policies and cultures which do not tolerate corruption and a proactive approach to the prevention of corruption, such as by effective training programs, due diligence on business partners and the establishment of whistleblower procedures.
How would you comment on Romania's economic performance over the past year and the forecast for 2016 and 2017?
Romania was one of the top performing markets economically in the EU in 2015 and this is predicted to continue through 2016 and 2017 at the same if a not better rate of over 4 percent, double the growth predictions in Western Europe.