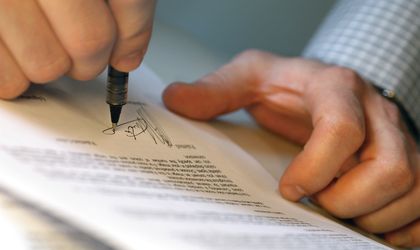 A new draft law states that parents won't be able to give more than three names to their children and that laminated marriage licenses and other documents will be deemed invalid, according to profit.ro.
Moreover, the two official copies of civil status documents will be exclusively digital, and there will be only one paper copy, which will be kept by civil status registries.
The project also introduces new deadlines and procedures for the registration of births and deaths or name changes.
Changes to an individual's civil status will be notified digitally to the local public registry or to the local mayor's office. For this to be possible, authorities will have to implement the Integrated System for the Issuance of Civil Status Documents, but the draft law makes no mention of when this system could be operational at a national level.
The draft law also reads that "Changing or amending civil status certificates is forbidden. Civil status documents that are laminated or unrightfully changed are deemed invalid." Laminated documents are already rejected, but there was no legal basis that made them invalid.  However, the project does not provide details on the procedure for invalidating the documents.
The project also says that marriage can be officiated by the civil status officer at Romania's diplomatic mission or consular offices representing the area where the future spouses reside.
Diplomatic mission and consular office chiefs will be able to officiate marriages between two Romanian citizens or Romanian citizens and foreign citizens if at least one of the future spouses is resident or domiciled in the area represented by the office.
The new law also states that for newborns, "the first name declared on the date of the birth registration cannot be made up of more than three words." The reasons for this provision are technical, as longer names can't fit into the dedicated space on the special documents they can be illegible when they are computerised. However, parents can request a first name made up of more than three words based on a written and signed statement from both parents.
In case of deaths, the event needs to be notified in a maximum of three days.
The project also introduces a shorter processing period for name change requests, from the current 60 days to 30 days, when such requests can be approved or denied.