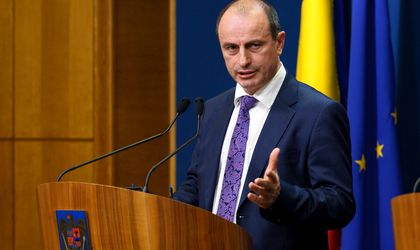 The Chamber of Deputies has adopted a simple motion against Minister of Agriculture Achim Irimescu. The simple motion was initiated by the Social Democratic Party (PSD) and the Alliance of Liberals and Democrats (ALDE).
The simple motion was adopted with 189 votes in favor, 11 votes against and 89 abstentions.
MPs debated the motion three weeks ago in the presence of Irimescu. According to the initiators, the motion called Irimescu on his "serious" slippages, such as the failure to provide direct payments (subsidies), blocking access to EU funds, blocking investments in irrigations systems, poor management of the Ministry of Agriculture and its subordinated units.
"From the moment the current Agriculture Minister took office, we only heard excuses and reasons why something was not possible or why work cannot be done. In fact, alongside the  episodes involving outrageous political declarations, it is obvious that he does not know what and how to do anything," the text of the simple motion reads.
According to the initiators, Minister Achim Irimescu must step down "so as to prevent the wiping of the entire agri-food sector," and avoid transforming Romanian citizens into "the beggars of Europe."
National Liberal Party (PNL) MPs have abstained from voting. However, leader of Liberal MPs Eugen Nicolaescu warned Prime Minister Dacian Ciolos that "if within 10 days he does not pay the subventions to farmers, we will come up with a motion".
In a later intervention, PNL co-chair Alina Gorghiu said that "whenever a motion is passed, the minister must step down".
Agriculture Minister Achim Irimescu made headlines with his controversial statements, according to which, RON 35 billion were illegally taken out from Romania during the presidential term of Traian Basescu, between 2004 and 2014.
"I am convinced that the PM will closely monitor the outcome and draw the necessary conclusions", Government spokesperson Dan Suciu stated on the matter. "I do not wish to anticipate things, but obviously, the views of the Parliament are of interest to the Government and a simple motion that passed implies there is a point of view of the Parliament regarding the activity of a ministry," Dan Suciu added.
Georgeta Gheorghe