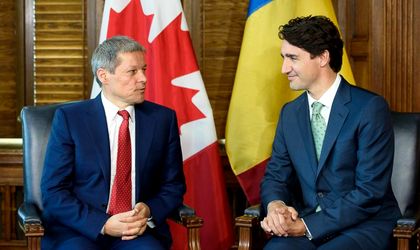 The Government announces that after the Comprehensive Economic and Trade Agreement (CETA) was inked on Sunday, Canada will remove visa requirments for Romanians in two stages, partially from May 1 2017 and totally from December 1 and PM Dacian Ciolos says it's "an important moment" for citizens, as well as for business people.
"This decision is in the EU Summit-Canada declaration and confirms the efforts of the Romanian Government to reach this result," says a release of the Government.
The executive says that "as a result of the intense discussions from the last months between the two prime-ministers, Dacian Ciolos and Justin Trudeau, Canada's government has confirmed the agreement of totally eliminating the visas for the Romanian citizens starting December 1 2017."
"It's  an important moment for Romania, not only because the Romanians' access to the treaty's benefits is opened, but also because of the elimination of the discrimination between the Romanian citizens and the other European citizens regarding the free circulation in Canada. I also believe that this liberalization will create important opportunities for the Romanian business people who want to develop projects with Canadian partners," said Ciolos.
From May 1 2017, the Romanian citizens who owned a temporary Canadian visa in the last 10 years (Canadian temporary resident visa) or who own currently a valid visa available for USA (valid US non-imigrant visa), will visit or freely circulate in Canada based on a travel electronic authorization (eTA) instead of a visa.
Georgiana Bendre