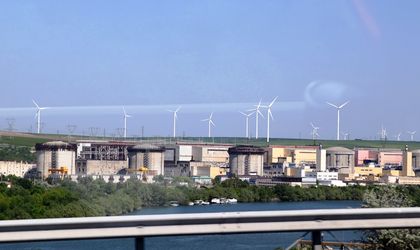 There are not too many big Romanian companies that we can brag about in the world. National Society Nuclearelectrica  with Cernavoda Nuclear Power Plant is one of them. A big electrical and thermal power producer and a manufacturer of nuclear fuel with a market capitalization of RON 2.45 billion that operates two nuclear plants at Cernavoda and a Nuclear Fuel Plant at Pitesti.
A visit at the nuclear reactors in Cernavoda is a rare event for people not working on the site. The level of security is the highest, outsiders not being allowed to bring anything inside. It is well known that CD or a memory stick can infect the entire system, so you can not carry any inside. Or a telephone, either smart or not. Of course there is a "no photo" policy anywhere on the site and even a "no fly" zone in the area above the plant.
The security can be annoying but it is understandable if you think that a nuclear reactor is not a toy to play with and the damage that can be done if anything bad happens.
The Fukushima accident is too close to everybody's mind (it happened just seven years ago) to not cause concerned for nuclear security. Fortunately, there are several differences between Cernavoda and Fukushima, so an accident like the one in Japan could never take place in our country.
It is no wonder why unscheduled stops can lead to ideas that the reactor is in trouble. Last month few unplanned stops over a couple of days sparkled the idea that there may be something wrong with the nuclear reactors, but the truth is that the malfunctions were caused by mechanic equipment outside the reactor.
The excitation system
Basically the problem was caused by a malfunction in some old equipment used by the turbogenerator of electricity, specifically in the excitation system. "70 percent of the unscheduled stops in the last year were caused by this equipment at the Unit 1", says Marian Serban, director of CNE Cernavoda.
The excitation system of the generator at Unit 1 (or Nuclear Reactor 1) was replaced in 2016 with the latest technology made by General Electric after a EUR 20 million investment. The same system is used for 60 percent of the 440 nuclear power plants all over the world and it will be used in Unit 2 from Cernavoda after 2019, the year in which the excitation system will be replaced.
But in 2016 at the replacement at Unit 1 Romanian engineers and General Electric's engineers decided that it is ok if they keep some of the old parts of the generator. And just like in Murphy's laws those were the parts that malfunction and the 400 KV lines linked to Transelectrica and the National Power Grid stopped working, bringing the reactor to a halt. "It was a punctual technical problem that is now fixed, after changing the bad parts", says Serban.
The company officials took journalists to a visit to the nuclear plant to show that everything is as it should be. Unit 1 is now in a planned outage program, in compliance with the preventive and corrective maintenance works necessary to be performed this period. From the outside we could see scaffolding around the plant with equipment that was checking for any kind of cracks in the concrete walls. So we visited Unit 2, which is up and running.
Over 40 years of history
The project for the entire nuclear power plant started in 1976 when the Romanian-Canadian feasibility study for the CANDU system in Romania was completed. In 1978 the takeover of the CANDU system license and for the nuclear equipment design and procurement for Unit 1 were concluded, and in 1981 a consortium formed by Romenergo, Ansaldo Italy and General Electric started building the reactor. By 1989 Unit 1 was 45 percent complete but it was finished and started working only in 1996.
There are two main types of nuclear reactor in the world: those using heavy-water and those using light-water. The CANDU technology uses heavy-water reactor and there are 61 Pressurized Heavy Water Reactors, like the two in Cernavoda, in the entire world – out of 674 reactors according to World Nuclear Association data. Heavy water cooling means that natural uranium can be used as fuel or slightly enriched uranium or recovered uranium (even from light water reactors). It is cheaper to operate, since there is no need for enriched uranium (a thing that you can do only in specialized factories).
No enriched uranium means that Romania is not a 'nuclear power', because you can't produce atomic bombs. A heavy water reactor is more expensive to build than a light water one but it's cheaper to operate and it produces less toxic waste.
Changes still to come
In the communist era, the plant was supposed to have an integrated chain of operation, from Romanian uranium mines to our own factory of heavy water. Today the Autonomous Company for Nuclear Activities (RAAN), the producer of heavy water, is in collapse. The Romanian state still has a reserve of heavy water that is worth around EUR 800 million to EUR 1 billion, which might be sold to any buyer.
"One problem is that they sell us the water at around EUR 1,000, twice the price that we can buy from international market. Another is that the water made in Romania is too pure at 99.9 percent heavy but we don't need it so pure, so we have to diluted to around 80 percent. And more than that the heavy water we use is recycled so the loss is very low", says D. B. one of the guides on the plant.
"Working at the nuclear plant is taken as a pride by everybody hear", says B. There are 1,520 employees at Cernavoda, highly qualified and perpetually trained, working mainly for the two reactors. Even if it is a 24/7 job, with shifts that cover the day and the night, people there are constantly changing position. "We have to rotate people to keep them alert and focused since the job can become a routine", says the dispatcher of the control room of Unit 2.
There are also constant classes for people who wants to join the team at Cernavoda and even if Romania faces a mild-crisis of work force it's not affecting the nuclear plant. Last month was opened a new class for 30 operators and there were 300 candidates.
Old technology combined with new technology
Unit 2's control room was very interesting to visit. Besides all the number and screen that show every little thing that is happening in the reactor we could see a panel resembling 1970's sci-fi movies technology. A pre-digital era in which the control was made using mechanic buttons with light showing on and off. Of course, it is combined with digital controls, computers and LCD screens, but it still takes you back on the memory lane. The cause of this is that it actually is a 1970's – 1980's technology, even if Unit 2 was completed and started working in 2007.
If the control rooms for Unit 3 and Unit 4 will be the same we don't know. Since the talks with Chinese partners are far from over we don't know what technology will be used. But we do know one fun fact. At Cernavoda are five units erected, four in line (the Units in activity and the two that are supposed to be finalized with private investments) and one slightly derailed. According to the people there, the original project was with five reactors, but the fifth is no longer viable and it is not taken into consideration these days. Still, the concrete cylinder is there and it will not go away too soon.
In 2015, the company and the Romanian Government signed a Memorandum of Understanding with China General Nuclear Power Corporation for the development, construction and operation of Cernavoda Units 3 and 4. But the negotiations for the project valued at EUR 6 billion are not yet finished. Today's board of Nuclearelectrica has a new six months mandate for discussions with the Chinese partner, mandate that ends in September.
With or without Units 3 and 4, Cernavoda has its own investments to do. Unit 1 lifecycle will end in 2023, earlier than estimated because it has worked at 90 percent capacity (not at 80 percent capacity as estimated in the beginning). In order to prolong the life span, from 210,000 hours to 240,000 hours, the company has already started the study needed to see what must be changed, and in 2020 the project should start. But after that the Unit needs a massive changeover, scheduled to take place between 2026 and 2028, a changeover that will give a new 30 years life span to the reactor (or 240,000 hours). The investment needed is from EUR 1.2 billion to EUR 1.5 billion.