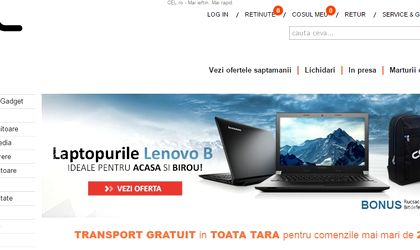 Online retailer CEL.ro has recorded a 40 percent hike of its sales in the first quarter of this year against the first three months of last year.
In the same period, the number of processed orders has increased by 50 percent to over 1 million. Around 25 percent of total sales came from mobile, while the rest from desktop.
Most of gains in sales were made in the phones and TVs category, which registered a growth rate of over 80 percent. Sales of personal care products moved up by 50 percent, while for gadgets the sales have tripled.
Tiberiu Pop, the CEO and shareholder of the online store, said the company was looking to expand its range of products and to take over competing stores.
"Unfortunately, the lack of capital didn't allow us to do everything that we had planned so we have to manage with this 40 percent (growth in sales – e.n). We will starting seeking for an investor that could help us unleash the full potential of CEL.ro and of the overall market," said Pop in a statement.
Last year, the online store had sales of EUR 40 million.
Ovidiu Posirca