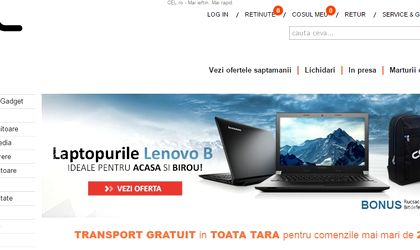 Online store CEL.ro, managed by the company Corsar Online, posted a 35 percent increase in turnover in 2016. The retailer recorded sales of approximtely RON 240 million (around EUR 53 million), and exceeded last year's number of orders by 150,000.
According to the retailer, development came on the back of investments in logistics and in the company's staff. Currently, the company employs 150 staff and the total surface of its deposits stands at 8,000 square meters.
The organic growth helped cement the store's position on the electro-IT market as the largest online store with 100 percent Romanian capital.
According to information provided by the online retailer, in 2016 mobile phones generated 2016 sales of more than 60 percent in value and 30 percent in number of units compared to 2015. The average value of purchase increased from 25 percent in 2015 and looks like in 2016 customers preferred terminals with a larger screen (in 2015 the screen average was 4.3 " and in 2016 was 5″).
Appliances recorded an increase of 100 percent, and IT components and the equipment category increased by 40 percent. Sales of TVs increased by 60 percent as number of units and there was increased customer interest for TVs with 55" – 65′ and feature 4K. Sales in 2016 were sustained by categories such as gadgets, perfumes, watches and home & deco.
The online retailer estimates a 30 percent increase in 2017, and will continue to invest in the logistic system as well as to diversify its portfolio. One of the newly-added categories on the site is the mandatory car insurance (RCA), which is expected to grow further in 2017.
In 2016 visits coming from mobile devices increased by 45 percent, up to 42 percent of total visits. Transactions on the devices represent only 27 percent of all transactions. According to the retailer, mobile devices are preferred increasingly in the first part of the purchase process, with most transactions being completed on the desktop. Overall, purchases on mobile devices increased by 72 percent compared to 2015.
Georgeta Gheorghe