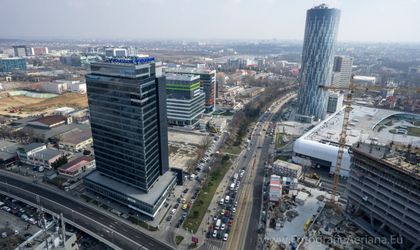 The average vacancy rate for office properties in Bucharest hit 9.5 percent in the first quarter of this year, marking the lowest level in nine years, according to data from real estate consultancy CBRE. The average vacancy rate for class A office buildings stood at 7.1 percent while for B class office buildings it stood at 11.4 percent.
The lowest levels were reported in the west and north sub-markets–4.6 percent and 6.6 percent respectively.
"This low vacancy is a consequence of limited deliveries during the first three months of the year, coupled with a maintained healthy demand which continued from last year into this year's first quarter," according to Mihai Paduroiu, head of advisory & transaction services with CBRE Romania.
Some 54 percent of the 94,000 sqm total leasing activity (TLA) reported during the first three months was represented by take-up (total transactions excluding renewal/renegotiation), according to the same source. About 26 percent of the TLA was generated by new lease (new demand) and expansion transactions. The highest demand levels were recorded in the north and Pipera sub-markets (more than 69,000 sqm), while 64 percent of the total take up was for A class office buildings.
Two office boutique buildings were delivered during Q1 2017, totalling 11,600 sqm. The largest projects announced for this year are The Bridge (first building) located in the west sub-market and developed by Forte Partners and Timpuri Noi Square (first two buildings) located in the central sub-market and developed by Vastint Romania.
At the end of Q1 2017 the prime headline rent was stable at EUR 18.5/sqm/month. The modern office stock reached 2.65 mil sqm, with A class offices representing 44 percent. Almost 300,000 sqm office spaces, distributed in all sub-markets will be delivered next year so, by the end of 2018, the total modern stock will reach 3.09 million sqm, according to CBRE representatives.
CBRE was consultant for the two largest office deals signed in the first quarter of 2017, of 20,000 and 10,000 sqm, respectively, according to its data. CBRE is also market leader on tenant representation, with 59 percent market share (38,500 sqm transacted) and landlord representation, with 22 percent market share (7,500 sqm transacted), according to CBRE data.