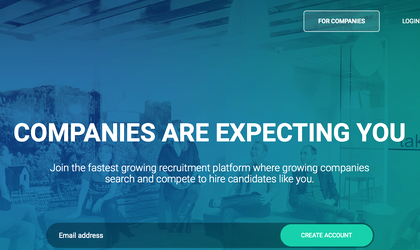 Private equity fund Catalyst Romania invested EUR 700,000 in the recruiting platform SmartDreamers.
The newly-launched platform connects companies and candidates via targeted marketing strategies, focusing on social media. According to company representatives, the platform's strategy helps companies develop their employer brand.
Last year, SmartDreamers launched the InRecruit app, which helps companies manage the entire recruitment process, including the posting of vacancies on multiple platforms with one click. The app saves recruiters time by allowing them to manage the career page and all CVs in a matter of minutes.
SmartDreamers was founded in 2014 by Adrian Cernat, Mihai Ceausan and Marius Huza. The platform, which was also launched in Hungary, is used by over 2,000 employers and has over 10,000 users.
The company's expansion plans include launches in Poland, Czech Republic and Bulgaria. It employs 12 staff and is planning to build a 20-strong team by the end of the year.
In 2015 SmartDreamers reported a EUR 30,000 turnover and estimates revenues of EUR 200,000. For 2017 the company forecasts revenues of EUR 1,000,000.
"It is the tenth active investment of the Catalyst Romania fund and we are happy to invest in another Romanian tech company, this time in a business in the online recruitment sector, a company that was founded and is developed in Targu Mures," Marius Ghenea, 3TS Capital Partners Investment Director. The portfolio of Catalyst Romania includes elefant.ro, vola.ro, Smart Bill and Vector Watch.
Georgeta Gheorghe