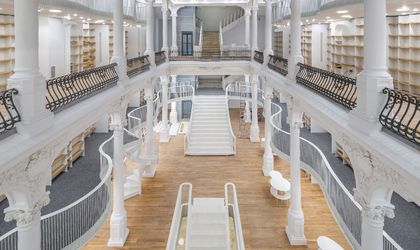 The revamped Chrissoveloni House in Bucharest's Old Town will host a Carturesti bookstore which is scheduled for opening  on February 12, after a delay of almost a year.
Chrissoveloni House, which was home to a famous bank during the inter-war period, has undergone EUR 1.2 million of restoration works after the heir of the former owner regained the property, which had been confiscated by communists.
"The investment in the library amounts to an estimated EUR 400,000 to EUR 450,000, not including the stock, which will require a similar amount. The property is being renovated by the owner and will require around EUR 1.2 million," said Valentin Salageanu, project manager of Carturesti, in an interview for Business Review in February 2014.
The bookstore chain had considered several locations in the area in which to open a new store, but finally decided on Chrissoveloni House. "There were various offers in the Old Town, but this particular property is by far the most beautiful and this motivated us. Also, there was the fact that the owner understood the potential of opening a Carturesti bookstore there," he added in the same interview.
The design of the building was made by architecture office Square One.  The 1,000 sqm consists of six floors, a bistro on the last floor, a multimedia space in the basement and a contemporary art gallery on the first floor.
The Carturesti chain of bookstore is controlled by local entrepreneurs Nicoleta Dumitru and Serban Radu. It has grown to a chain of 16 stores, not including the Chrissoveloni location.
In the past, Carturesti has also operated locations outside the country. Between 2009 and 2011, it showcased a book exhibition in the headquarters of the Romanian Cultural Institute (ICR) in New York. The space was designed by architect Serban Sturdza. Prospective buyers could only shop for books online because no commercial activities were allowed in the grounds of the ICR headquarters.
The building now known as Chrissoveloni House was built in 1860 and was bought by Greek banker Nicolas Chrissoveloni in the early1900s. It was confiscated by the communists in the late 1940s. Five years ago, Jean Chrissoveloni, the great-grandson of Nicolas Chrissoveloni, recovered the building and began reconstruction works in 2010.
Simona Bazavan and Tatiana Lazar