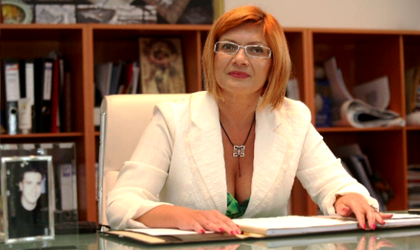 After the Bucharest Court placed Carmen Adamescu on house arrest for 30 days  on October 11, the Bucharest Court of Appeal ruled in appeal that Dan Adamescu's former wife will be examined under judicial control. The decision is final. Carmen Adamescu is prosecuted by prosecutors of the Prosecutor's Office attached to the Bucharest Tribunal for embezzlement and tax evasion.
"In fact, between October 2004 and July 2017, repeatedly intentionally and based on the same criminal resolution, as chairman of the board of directors and general director of injured person USC SA, defendant Adamescu Carmen appropriated: in favor 4 companies controlled by the company, the total amount of RON 44.9 million, by concluding with these companies fictitious contracts, capable of creating the appearance of the lawful leaving of this amount of the injured person's patrimony (business managemen/business consultancy contracts, contracts for personal service, the amount of RON 3 million, either by direct cash withdrawal from the casualty of the injured person or by making payments from the bank accounts of the injured person, "the prosecutors said.
Also Thursday, the police officers of the Investigation Division of Economic Crime applied seizure on 16 real estate owned by Carmen Adamescu and the four companies involved in this file.
Among the buildings are Rex Hotel in Mamaia, six apartments in the house where Carmen Adamescu is in house arrest, a land in Ghimpati, an apartment in Poiana Brasov and a nationalized house on Lascar Catargiu street in the capital.
The file was opened as a result of a complaint filed by Alexander Adamescu, the stepfather of Carmen Adamescu, between the two being a conflict over the legacy of Dan Adamescu's estate. Alexander Adamescu is also investigated by DNA in a corruption case, and his name is issued in 2016 with a European arrest warrant. Currently, Alexander Adamescu is in the UK.