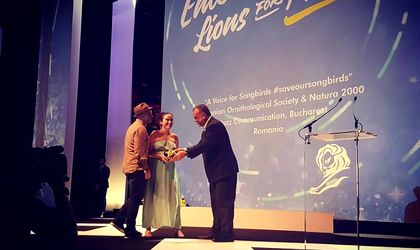 Romania had a good year at the Cannes Advertising Festival 2016. Out of the record 187 entries, 24 were shortlisted and 11 trophies have been won: 2 gold, 4 silver and 5 bronze
The independent agency Jazz Communication received a gold and walked on stage for the campaign , A Voice for Songbirds #SAVEOURSONGBIRDS", for Romanian Ornithological Society and Natura 2000, at the Entertainment Gala.
Moreover, on the previous Gala, "Bittersweet Pies" from MRM / McCann Bucharest for Paul Restaurant took another bronze in the Media category and its first silver in Creative Data. The campaign has won 2 more bronzes earlier in the week, making it the one with the largest number of lions so far, with a total of 3 bronzes and 1 silver.
The other winner of the night also came from McCann: "Pay with Blood", a blood donation campaign for UNTOLD Festival, which won a bronze in Media.
McCann Bucharest won with Bittersweet Pies for Paul Restaurants 3 bronzes in Promo & Activation, PR and Media categories, plus 1 silver in Creative Data. Also from McCann, Pay with Blood for UNTOLD Festival won 1 bronze in Media + 1 silver in PR, while Go Mono for Radio 21 won 1 bronze in Promo.
Cohn&Jansen received 1 gold in PR for Purity Test (Aqua Carpatica).
Jazz Communications won 1 gold for A Voice for Songbirds.
Publicis' campaign ACR Street View Test won 1 silver in the Promo & Activation category. Bernie Speed Test (for Arcub Bucharest) got 1 silver in PR.
Romanita Oprea
Photo by Elena V. Ionita (https://www.facebook.com/elena.v.ionita?fref=ts)