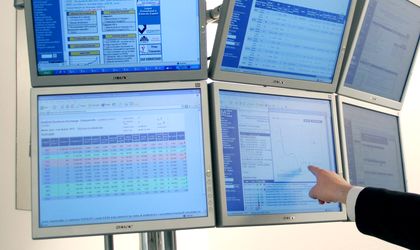 The Bucharest Stock Exchange (BVB) ended 2013 with a turnover of RON 24.3 million, up 40% from last year. Preliminary net profit rose to 10 million lei (EUR2.1 million) in 2013, up 10.9% from RON9 million in the previous year, the market operator said Tuesday.
The public offers for 15% of Transgaz, 10% of Nuclearelectrica and 15% of Romgaz played a big part in the increase in business, mobilizing foreign investment funds and local retail investors, according to a press release from the BVB.
The market operater reported a preliminary operational profit of RON 8.4 mln, up 106% from last year. The financial profit decreased by 46.4% compared to 2012, to RON 3.2 million, based on the decline of interest rates and dividends, the main sources of income. Dividends dropped 80% compared to last year.
BVB closed the year with an advance of 47.5% for capitalization, up to EUR 17.8 billion, based on increased prices for listed companies but also on the listing of Nuclearelectrica and Romgaz, which together added EUR 3.64 bln to the Exchange's capital.
According to the BVB statistics, the value of transactions rose to RON 12.99 bln, a 42.7% increase, and the average value of a transaction was RON 51.8mln, a 42.1% increse. BVB also reports that it is now the second most valuable stock exchange in Central and Eastern Europe, based on the value of transactions operated in the first trimester of 2013.