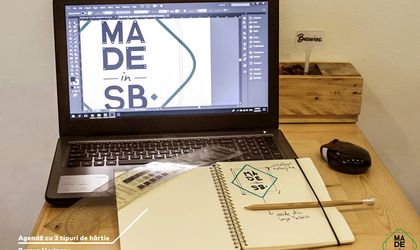 There is no secret that Sibiu has managed to attract more and more creative entrepreneurs with creative businesses in the past few years. It's quite normal I might say due to the fact that the medium-size town is a true magnet for tourist all around the world.
This period of time, a local entrepreneur who believes and promotes healthy life, Adrian Oprea from Sibio juice-bar, has found four local creatives to craft some special products under the slogan MADEinSB. And I strongly recommend a visit there, especially if you have already booked a winter vacation in Sibiu or nearby.
"MADEinSB is a campaign through which Sibio juice-bar targets artists and craftsmen from various areas that live or work in the county of Sibiu. For our most ambitious project implemented under the motto "Buy local – live local", in which I act both as a customer and as creative director, we bring together the most creative designers, illustrators and craftsmen from Sibiu," says Adrian Oprea about the initiative.
Read also: Christmas fairs to check out in Romania
Up until December 31, 2017, at Sibio juice-bar (3 Piata Mica, Sibiu) you will find four artisans: Alin Ciocea – Nocrich Ceramics (Ceramica de Nocrich) – with a limited edition of espresso cups, Loredana Kaschovits – Luthelo – a limited edition of handmade soaps, Sorina Tomuletiu – freelancer designer / illustrator – with a series of products illustrating some monsters vegetables and fruits and Remus Herişanu – PrintATU – with a limited range of premium notebooks.
"After a half-year analysis of Sibiu creative space, I noticed that there is a generation of old craftsmen who have devoted their entire life to their traditional craft, but there is also a wave of new artisans-designers, who bring traditional skills to new territories. (…) On behalf of this type of collaboration that pushes the boundaries of creativity, we created this campaign and we searched artists who are now in their maximum shape, as shown by their products that I have admired during this period of study, remaining faithful to the craftsman / artist – creating objects that fit perfectly for a contemporary lifestyle," argues Adrian Oprea.
But what is a modern craftsman?
I left the question of what a modern craftsman is. I defined it as that person who uses specific tools, works slowly
and meticulously, using traditional techniques, but who uses modern materials and a contemporary vision. Someone who wants to force his/her work and their craft to create a strong brand. Someone who has to impose itself commercially without doing compromises in quality and authenticity, inspiring us to look at the craft with other eyes. After a half-year of observation – a natural conclusion about the new generation of artisans/ designer products is that they are absolutely essential to the contemporary design.
Read also: Christmas ideas – Made in Romania
Photos courtesy of Sibio / Rares Helici