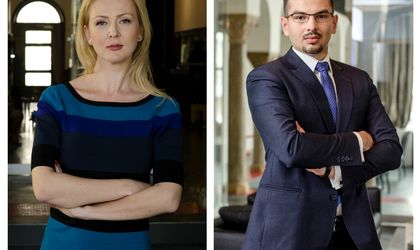 Bulboacă & Asociații promotes Andrada Bulgaru (head of General Business Law) to the position of partner, starting June 19, and Claudiu Damian (litigation, corporate, commercial, insolvency) to senior associate.
"Andrada's professional career at Bulboaca & Asociatii, her contribution to the firm's development and reputation, but especially the passion with which she embraces this profession – complex, as well as demanding – have definitely contributed to her promotion as partner. Andrada has been with us since 2011. During these years, she has demonstrated effective leadership skills, she has managed to strengthen and contribute to the expansion of our client portfolio, she has created a strong team, succeeding in developing one of the most important departments within the firm, that is insolvency," said Adrian-Catalin Bulboaca, managing partner of Bulboaca & Asociatii.
"Claudiu is a young lawyer who enrolled in Bulboacă & Asociații's team in November 2015 and who demonstrated extraordinary human and professional qualities, adding value to the litigation team he belongs to and contributing in this way to the firm's overall development. His promotion to senior associate position comes as a result of his exceptional and high quality legal skills, doubled by his professionalism and enthusiasm", added Bulboaca.