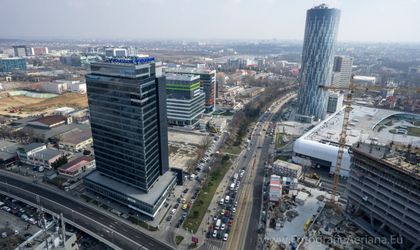 Bucharest's modern office stock increased to 2.56 million square meters in the third quarter of this year and another 80,000 sqm will be added by year end, according to data from real estate consultancy CBRE.
A total of 59,000 sqm were delivered in Q3 alone as part of four projects: the first phase of Oregon Park developed by Portland Trust (20,100 sqm), The Landmark developed by Piraeus Bank (20,300 sqm), the reconverted Plaza Romania Offices (10,600 sqm) and Forte Partners' Stefan cel Mare Office Building (7,700 sqm).  As predicted, some properties that were due for completion this year were postponed for 2017 and therefore the total volume delivered this year will amount to 294,000 sqm rather than 389,500 as initially forecast, according to CBRE representatives.
In Q3 2016 the total leasing activity reached 62,800 sqm which was down by 12 percent compared to the same period of the previous year. Out of this, about 55 percent was represented by take-up (renewal and renegotiation transactions not included). The total leasing activity for the first nine months of 2016 stood at 268,000 sqm.
Coming back to the Q3 figures, some 46 percent of the take-up was represented by new leases (relocations), followed by expansion with 30 percent and new leases with 19 percent. A total of nine lease transactions of over 2,000 sqm each represented some 63 percent of the total leasing activity registered in Q3. Pipera attracted 39 percent of the total leasing activity followed by the central sub-market with over 14,800 sqm transacted.
The overall vacancy rate slightly went up during the same time period reaching 12.3 percent at the end of Q3, according to the same source.
Prime rents remained stable at an average of about EUR 18.5/sqm/month.
Simona Bazavan