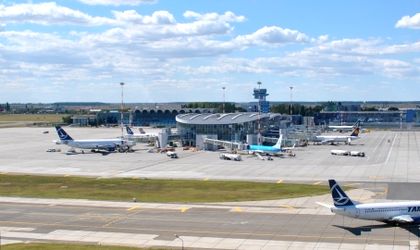 The National Airport Company Bucharest (CNAB) laid out plans for the construction of a new terminal at the Henri Coanda International Airport, which would double its passenger capacity.
Officials of CNAB said the construction is set to start in 2022 and the total investment will stand at EUR 818.5 million, excluding the costs for land expropriations. The statements were made during a meeting with potential investors brought by Fondul Proprietatea, the minority shareholder of CNAB.
The new terminal, which should be finished by 2025, will have 25 new boarding gates and 56 parking spaces.
The Otopeni airport recorded 10.99 million passengers in 2016 and CNAB representatives say that this year, Bucharest's main airport will have more traffic than the one in Budapest, which had 11.43 million passengers last year.
In terms of airlines with most passengers on Henri Coanda airport in the first semester, low-cost carrier Wizz Air came first with 1.5 million passengers. Romanian low-cost operator Blue Air had 1 million, while state-owned airline Tarom had 0.9 million. Ryanair and Lufthansa had 0.9 million and 200,000, respectively.
CNAB data further shows that 91 percent of the passengers travelled on economy, while 7 percent were on business class. Close to 90 percent of the travelers flew to destinations within the European Union.