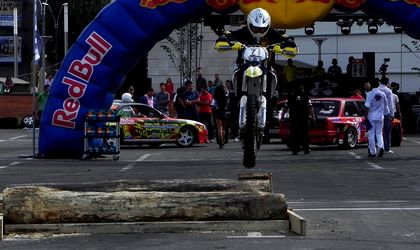 Between June 8-10, Romexpo will host an event for the most talented rally pilots, enduro bikers, and karting drivers, riders and skaters, but also for the strongest persons from Romania. The event will host the Body Power Strongest Man and feminine arm wrestling competitions.
Bucharest citizens will have the opportunity to take part in auto demonstrations, racing, drifting, exhibitions and several driving tests on two or four wheels. Moreover, the Bucharest Wheels Arena is presenting more than 1000 cars and motorcycles, as well as an impressive collection of tuned autos.
Zdob si Zdub, Iris, Cargo, Vita de Vie, Suie Paparude and Parazitii will play at the event.
Several worldwide champions will attend Bucharest Wheels Arena. They are Kevin Carmichael, World Champion at Stunt Bike, Vali Porcisteanu, National Rally Champion, Titi Aur, multiple National Rally Champion, Manu Mihalache, Rally Pilot, Mirela Parjol, World Champion at Arm Wrestling Female Category, Ion Oncescu, World Champion at Arm Wrestling Male Category.
The event will start June 8 at 10.00 in Romexpo. More information about this event here.
Oana Vasiliu