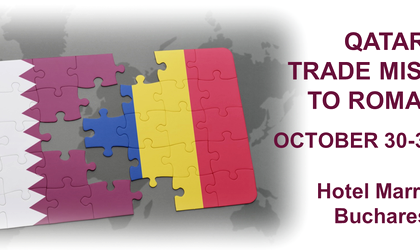 Bucharest will host the Qatar Trade Mission between October 30-31. All interested Romanian companies are invited to participate in this business event, which proposes also B2B meetings with companies from Qatar and representatives of Qatar investors.
The participating companies come from many fields: medical, oil and gas industry, plastics, packaging, metallic products, electrical products, construction and equipment for agriculture.
Qatar companies want to know the Romanian market and develop partnerships, whether they are export, import or production contracts.
The representatives of the Qatar Development Bank are also intending to meet Romanian partners to discuss opportunities for cooperation and investment projects in and out of Qatar.
With the world's highest GDP per capita, the world's third largest proven gas reserves, and foreign business willing to be part of Qatar's future – including the Qatar World Cup 2022 – the country is delivering excellent returns on investment.
On the other hand, Romania's geographic position, economic development and investment potential in areas such as agriculture, infrastructure, energy, tourism, real estate, IT create an attractive framework for Qatari companies.
Recently, two major companies in Qatar, Power International Holding and Al-Faisal Holding, declared they were interested in investing in Romania in energy projects and hotels respectively.
In 2016, the trade balance was favourable to Romania (USD 27M versus USD 8.4M), but the development potential is important in both directions. Although more than 70 percent of Qatar's exports come from the oil and gas sectors, the diversity of the sectors represented at the Bucharest conference confirms Qatar's desire to encourage exports from other industries.
The co-operation agreement, which is being signed between Constanta Port and the new Hamad Port in Qatar, will be another factor facilitating these exchanges.
In order to emphasize the importance of this mission, it must be highlighted that the State of Qatar has organized this year just one more Trade Mission, in Brazil, the country still presenting one of the greatest development potentials in the world.
The Ambassador of the two States and representatives of the various institutions involved in promoting bilateral relations will participate in the opening conference, such as: Qatar State Development Bank, InvestRomania, Romanian Chamber of Commerce and Industry. The professional associations from each activity sector involved and the business associations from Romania are also invited.
Last months have been particularly fruitful in confirming mutual interest in speeding up trade and investment links. Between July and early October, several meetings on this topic took place in Bucharest and Doha. The Economic Mission in Bucharest represents the confirmation of the desire to advance quickly, giving companies the opportunity to discuss directly.
The Bucharest event is organized by acceleRO, international development company, supported by InvestRomania and the Chamber of Commerce and Industry of Romania.
Participation is free but registration is mandatory. Click HERE to register.