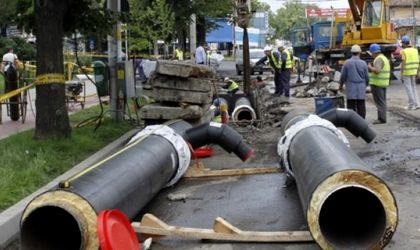 The minister of European Funds, Cristian Ghinea, said that Bucharest runs the risk of losing EUR 187 million from European funds if the future mayor doesn't  rehabilitate the transport and distribution network of thermic agent until June 2017.
He also reveals that in the last financial period (2007- 2013), the General Mayor's Office of Bucharest had water and used water infrastructure investment funds in value of EUR 208 million.
According to him, the public speeches from the election campaign got the attention of voters on some management solutions at the level of producer and supplier of heat, but we draw the attention on other 2 issues of thermic infrastructure from Bucharest, the first being the loss of network and the other is the financial effort that the General Mayor's Office is doing every year from the tax-payers' money.
Moreover he says that in 2014 the European Union accepted an amount of EUR 187 million for Bucharest with clear destination, the reduction of thermic agent loss and a lower cost for the gigacalory.
Also "a team of professionals and experts from The European Funds Ministry is willing to assist the future administrative team of Bucharest to help the closing of this big project. Otherwise, The Ministry has to redistribute the money to other projects, from outside the Bucharest."
The Ministry says that it is about a rehabilitation project of the shell of Dambovita river, valued at EUR 120 million, which has as objective the reduction of leaks into the Bucharest underground and into the metro, which is a risk source of floods.  Initially it was a project of the Environment, Waters and Woods Ministry, financed from European funds and has the potential to bring an impact in Bucharest by creating green spaces, bike lanes and foot- passengers consoles over Dambovita.
The POIM portofolio for the Bucharest Mayor's Office includes the thermofication budget for transport network resizing in value of EUR 187 million, waste incinerator- EUR 200 million, and the channel modernizing project of EUR 325 million.