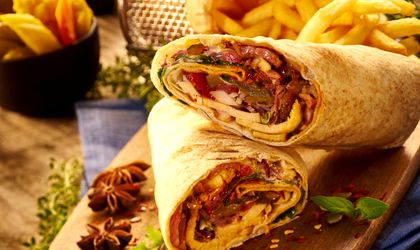 This restaurant is housed directly behind, and attached to the Radisson. And yes, it is part of the Radisson itself. But make no mistake, the menu is different from its big brother; so are the kitchen, the chef and the staff. It is in all respects a separate entity.
So I urge you not to walk past it and assume it is another hotel nosh house. Come inside with me, and you will get a pleasant surprise.
It is essentially a Lebanese chophouse, and those of you who are conversant with Lebanese cuisine may well find the choices on the menu to be rather limited compared to the endless boasting of menu selections you may have encountered in other Lebanese outlets in town. But fear not, for they have fine honed their skills into making this the best Middle Eastern eatery in the city.
The décor leaves a lot to be desired; basically it is brown wood, and that's that. Equally unattractive are the clientele, who are a scruffy lot of UIP's (unimportant people) who are staying in the hotel, but are savvy enough to sniff out a bargain even though they are just passing through Bucharest. And this is a shame, for the well-heeled, glamorous residents of the town's Victorei area would be well advised to make it their own chosen place.
So let's eat. The menu has all the usual suspects for starters, together with all the Mediterranean dishes you could so easily predict. So Blondie and I passed on all the green stuff we are constantly told is 'good for us', and appeased our primeval natures by going carnivore.
So away to a 'kibbeh', three quenelle-sized fried minced lamb bullets with fresh pine seeds. Those gorgeous soft pine seeds are the most expensive and luxurious nutty veg in the world. And, oh, what a flavor! It was perfect, save for the fact that our charming waiter did not know that Blondie and I had travelled the Middle East in peaceful times, so we knew what was missing – a side of tahini (chickpea) sauce and a mountain of lemon to squeeze. We got it.
A simple side of hummus carne (hummus topped with lumps of minced lamb) followed. Again, this simple dish of hummus was perfect. Make it at home with a blender: simply chickpeas, tahini sauce, garlic, olive oil and lemon juice.
So now to our meat mains. Blondie ordered a sumac chicken kebab. Sumac is an Eastern spice derived from a variety of flowers. It is strong, red and sweet with a unique flavor which can only be described as… sumac. It came with a dish of mint couscous. For those of you who have never tried couscous, I urge you to 'go cous' and you will never eat rice again.
At this point I must state that Lebanese cuisine, unlike European cuisine, does not 'plate up' into a work of art at your table. It is basically the same as Greek 'mezza', namely a multitude of small dishes on round plates. And my next round plate of shredded beef, marinated in pomegranate sauce, was simply superb.
All this was accompanied by an endless supply of superb olives, dipping oil and excellent bread, baked in-house in a wood oven. But do I have any downers on this House? Yes! I asked for a side of 'harisa', an Arabic/Tunisian dip made from blistering hot chili seeds. But no. This is Bucharest, and the House dumbed it down to accommodate the local ignorami who are too traditional to 'go with heat'. Likewise with every dish containing chili and pickle.
In conclusion, if you do not know Lebanese cuisine, go here and ease yourself into its attributes. If you do know Lebanese cuisine, go here and see it cooked at its best.
Michael Barclay
Mab.media@dnt.ro