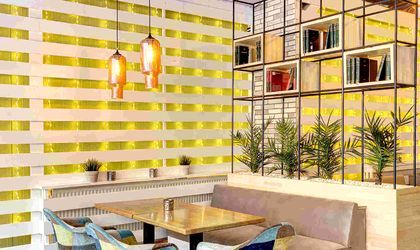 I cannot imagine what was in the mind of the proprietor of this house when he named it Lugo, a small town in Spain, for there is nothing Spanish about this place whatsoever. Even if you stretch your imagination to breaking point, there is nothing Mediterranean about it, either. But oh well, I went there with Blondie because it is in a great location, and it had a wonderful terrace, resplendent with two bamboo walls.
So off to the menu which, considering the 85 items it boasted, already raised red flags of alarm. I know sophisticated European hotel kitchens with 25 chefs who would struggle to create such a number, so how the hell could a chophouse with one chef achieve the same? Well, it cannot!
It was typical old-time Romanian gastronomic strutting, and in an attempt to impress you 85 times. The house diluted originality and creativity by simply rotating the contents of the same dishes over and over, so read on and I shall elaborate further.
As a balance to my being a macho meat eater, Blondie is a waist-watching salad lover, hence she opted for a "Caesar Salad," of which she is an expert. She howled in derision at her "product" when it arrived, for it was not a Caesar salad. Every chef the world over knows it must be made with bitter "Cos" lettuce, with a dressing made from crushed parmesan, squeezed garlic, anchovies, lemon juice, olive oil, Worcester sauce, egg yolk and topped with croutons. NONE of the aforementioned items were discernable and instead, it was made with iceberg lettuce, tomatoes and chicken.  But, worse was to come.
From the soup section of the menu, she chose an alleged "Thai turkey soup with pasta, hot pepper and mango." Oh give me a break: there was no hot pepper, the pasta was five spaghetti-type noodles and the soup was reminiscent of clear dishwater. For anything Thai, I would expect at least the inclusion of blistering hot red curry, coconut milk and topped with fresh coriander leaves. But it was not forthcoming and the dish was a disaster.
I chose a "seafood soup" containing shrimp, squid, octopus and mussels. This combo of seafood was to be a recurring theme in their dishes, which I strongly suspect was straight out of a supermarket freezer pack. My fish were swimming in a clear watery tomato soup, the tomatoes inexplicably extracted from a tin at a time when fresh tomatoes were cheaper for the house to buy; it was devoid of garlic and seasoning. A failure.
But they did something right with a Crostini, a finger of toast topped with melted cheese, prosciutto and rucola. It was impossible to do it badly, so it was fine, save for the ludicrous name of "Margherita," which I always thought was a cocktail or a pizza.
Away I went to a "seafood risotto," which was acceptable, and contained the same combo as my soup: shrimp, squid, octopus and mussels. We passed on their 9 seafood dishes including fresh tuna, sea bass, shrimps and mussels, but I guess you anticipated that list already.  I asked for a side of shaved parmesan, and to my horror, they passed off parmesan with vile,  "Gran Padano," a cheaper look alike, substitute version of "Parmigiano Reggiano."
So now, when I saw parmesan listed on the ingredients of a dish on the menu, I viewed it as a fraud. And there were many fraudulent dishes containing so-called parmesan.  There was, for example, a "truffle risotto with parmesan." A double whammy here, as there was not only no real parmesan, but also no truffle in the kitchen. Therefore, this reduced the 85 boastful items by deleting from their 8 pasta dishes the "pappardelle with truffle, mushrooms and parmesan"- no thanks. Add to that "truffle chicken, beef and parmesan"- nope. And a big nah to their "risotto with truffles and parmesan" as well as a goodbye to their "burrata (cheese) with truffle cream," and a double NO to anything containing parmesan.
Nothing worked, including our last dish of "wok turkey with rice, hot pepper, sweet chili sauce and vegetables." Why even mention a wok? Is a wok meant to impress or intimidate you? Dammit why didn't they simply say "stir fried" instead of "wok?" Well, it was a failure, as the unseasoned vegetables (red and green peppers plus carrots) were overwhelmed by a sickly sweet chili sauce and not a hint of hot pepper. The rice was served on the side, dutifully colored yellow by turmeric powder to impress you.
I wonder when Romanian restaurateurs will get the message that most of the greatest restaurants in the world earn their stars with fixed menus of 5 mains which have been honed to perfection, not 85 items. I left hungry and I will not look back.
Michael Barclay