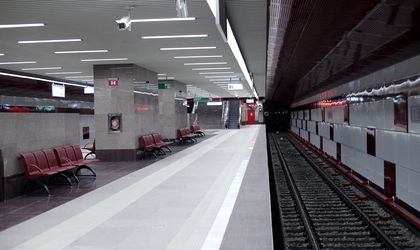 European Commissioner Corina Cretu's office announced today that a major infrastructure project aimed at the expansion of one of Bucharest's metro lines has been approved for funding in two phases.
The metro line 4, which runs from the railway station Gara de Nord to Bazilescu Park, will be expanded by 1.89 km to Straulesti. The initial estimated value of the project reaches EUR 97.7 million.
The first phase, assigned for European funding within the 2007-2013 program, has an eligible value of EUR 65 million, of which EUR 55 million will be co-financed by the EU. The second phase will fall into the 2014-2020 financing period.
"It is an important project for Bucharest, for the public transport in the capital city. About 50 thousand inhabitants of neighborhoods Bucurestii Noi and Chitila will enjoy direct access to the subway system. The population of northwestern cities of Bucharest such as Mogosoaia, Buftea and Chitila will benefit also from easier access to a high capacity transport network. This project will help increase the comfort of Bucharest residents by reducing congestion and pollution," says the commissioner.
The line extension is estimated to reduce by some 65 percent travel time by public transport along this corridor and is expected to be used by over 3.6 million passengers per year.
This major infrastructure project is part of the Transport Operational Program, Priority Ax 1, "Modernization and development of TEN-T core network in order to develop a sustainable transport system integrated with EU transport networks" and runs through the Cohesion Fund.
Natalia Martian