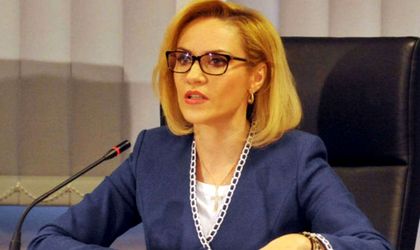 Bucharest Mayor Gabriela Firea spoke to reporters as she left the Military Section of the General Prosecutor's Office today, where she was questioned about her knowledge of the violent clash between protesters and gendarmes during the August 10 protest. 
Firea said that other political figures have been trying to put all the blame on the Bucharest Prefect, Speranta Cliseru, who is known for her close relationship with the mayor.
"The investigation will reveal that she was not at fault. As far as I know, she had no way of accessing service secrets and military orders," Firea said. "All she did was sign, not write up, the intervention order at the request of the gendarmerie representative, as the law states."
Gabriela Firea continued to criticise Internal Affairs minister Carmen Dan, who she claims demonstrated bad crisis management skills during the protest.
"I'm not in the camp of those who criticise the PSD, but I'm one of the people in PSD who are lucid and we can't accept the truth being distorted to no end or being manipulated," Firea added.
The Bucharest mayor also said that the City Hall acted within its legal attributions: "There were elements that are part of the general mayor's attributions, especially those regarding authorising the protest, requests, whether they were approved or not, whether there was an organiser who took responsibility for the August 10 protest. The mayor has to follow Law 215 for local public administration, we don't have military or intervention attributions, we can't be part or have knowledge of state secrets of the structures allowed to re-established order and we can't coordinate such events, which is why I could only be asked tangentially about the way this protest was organized. I was on an official visit in Tallinn," she stated.
Firea also had a message for PSD leader Liviu Dragnea: "I want us to be allowed to speak, to stop being countered with messages sent through various consultants, toxic messages in the press which undermine us as individuals and public figures. I want to say that I'm not impressed by those things that came out yesterday and will come out in the following days – lies on various websites and channels. I know these intimidation tactics used on those who dare say things out loud. Knowing that what I have said is true and having arguments on my side, I expect these attacks to stop. There's an underground war going on which is not exactly clean, but it was not launched by me."