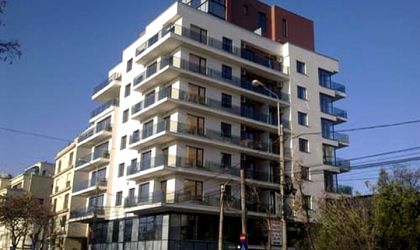 Bucharest is the only big city where asking prices for apartments have dropped during the first six months of the year, according to a study by Imobiliare.ro. Compared to the average of EUR 1,066 per square meter (sqm) asking price reached in December 2014, it has recorded a drop of 1.8 percent, to EUR 1,047 per sqm in June 2015. In June, compared with May, there was a decrease of 0.9 percent from EUR 1,056 per sqm.
The decline in the last six months has been supported exclusively by the new housing segment, which went down on average by 7.2 percent from EUR 1,145 to 1,063 per sqm. Asking prices for apartments in old buildings, on the other hand, went up by 2.1 percent from EUR 1,011 to 1,032 per square metre.
On a national level, the asking price for apartments on sale (new and old) grew by 4.7 percent, from EUR 891 per sqm at the end of December 2014, to EUR 933 per sqm at the end of June 2015. After three months of increases (January, February and March) and two months of prices falling (April and May), in June prices rose by 0.5 percent, from EUR 928 per sqm. Compared to the first six months of last year when the asking price stood at 904 per sqm, the current value is about 3 percent lower.
The first place in price increases recorded in the past six months is taken by Cluj-Napoca, with an advance of 7.1 percent, from EUR 948 to 1015 per sqm. In June, sellers in Cluj increased their claim by 0.4 percent as compared to the end of May. Old housing prices rose in this period by 5.9 percent and new ones have increased by 10.3 percent.
Next in line is Constanta, with an advance of 5.3 percent from EUR 856 to 901 per sqm for the first six months of the year. Housing in old buildings has known an increase by 5.5 percent while newly built apartments went up by 4.3 percent. Compared to May, June asking price has increased by 0.1 percent.
In Timisoara, the average asked price for an apartment offered for sale (regardless of year of construction) increased by 4.7 percent during the first six months, from EUR 847 to 887  per sqm. June recorded a 1.4 percent advance against May. Apartments in old buildings rose by 5.4 percent and the value of listing of new residential rose 1.7 percent.
In Iasi, the old housing prices remained relatively constant, while newly built housing units were up by 8.6 percent. Apartments went up by 3.5 percent in the first half of the year, from EUR 810 to 838 per sqm. In June, however, the asking price held a slight rebound, by 0.2 percent compared to the level in May.
Brasov has experienced the smallest increase of 2.9 percent, from EUR 841 to 865 per sqm. An advance of 3.9 percent occurred in the segment of old apartments, while the new residential dwellings were cheaper by 1.3 percent. In the first month of summer, the asking price has increased by 1.2 percent as compared to the end of May.
Natalia Martian