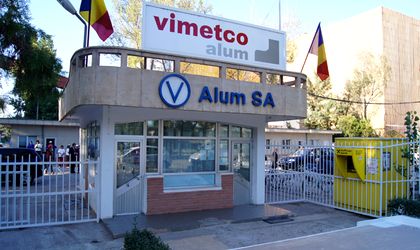 The Black Sea Trade and Development Bank (BSTDDB) and Garanti Bank Romania will provide USD 25 million loan to Alum, Tulcea – the sole alumina producer in Romania and one of the largest in Central and Eastern Europe, which is part of Alro Group.
BSTDB's financing amounts to USD 20 million, while the remaining amount will be provided by Garanti Bank. The funding will be mainly used to continue the Company's investments aimed at reducing its carbon footprint, which have begun a decade ago.
"Alum has implemented in the last years an extensive investment programme aimed to increase its energy and processes efficiency while complying with the environmental regulations in place. This new financing obtained from reliable business partners such as Garanti Bank and BSTDB represents a new step forward for continuing our long-term investment programme, focussed on technology upgrading, products portfolio's diversification, development of new value-added products and safety and environmental protection projects", said Gheorghe Dobra, CEO Alum.
Between 2009-2016, Alum invested USD 28 million to upgrade part of the existing equipment with the aim to make the production process more efficient and to comply with the European norms on environmental protection. To date, Alum's efforts have reduced its carbon dioxide emissions by 57 percent.
Alum has also partnered with a research&development consortium organized by European Aluminium Association to launch a four-year study aimed at exploring environmentally-friendly new uses for bauxite residue in industries in which it is not currently used.
Alum is the only Romanian producer of calcined alumina and is part of Alro Group. The calcined alumina is used for the production of aluminium and Alum has an alumina refinery with a production capacity of 600,000 tonnes of alumina per year. The alumina produced by the company is supplied both on the domestic market to Alro S.A. and internationally.
The Black Sea Trade and Development Bank (BSTDB) is an international financial institution established by Albania, Armenia, Azerbaijan, Bulgaria, Georgia, Greece, Moldova, Romania, Russia, Turkey, and Ukraine. The BSTDB headquarters are in Thessaloniki, Greece. BSTDB supports economic development and regional cooperation by providing loans, credit lines, equity and guarantees for projects and trade financing in the public and private sectors in its member countries. The authorized capital of the Bank is EUR 3.45 billion.