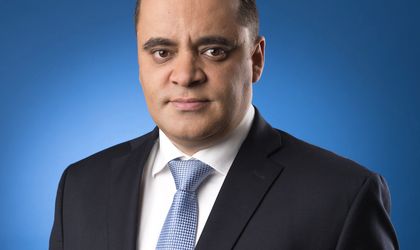 Less than one year after Sofiane Benmaghnia took over as CEO of Holcim Romania, the news has broken that the cement producer could launch a digital project.
 Simona Bazavan
Benmaghnia, who was appointed general director of Holcim Romania in April last year, has an extensive professional background in the construction materials industry. The 39-year-old Algerian-Canadian joined the now LafargeHolcim group in 1999 as a financial analyst. Before coming to Romania he had served as general director of Meftah Cement Operations, Aggregates & Concrete in Algeria since 2011, and prior to that financial director at Lafarge Concrete and Aggregates in the Middle East for three years.
Now, less than one year since Benmaghnia took over, news has broken that under his leadership Holcim Romania could launch an online project, an interesting move given that the company's core business lies offline and has mainly to do with cement production.
The first step was the launch of Start Casa Visio, a limited liability company created in association with Geocycle, another firm controlled by Holcim Romania which deals in waste management. The concept behind this project "has to do with the company's core business", representatives told Profit.ro, while ruling out an online store. "We are presently in the early development phase and we are testing and evaluating but we haven't yet validated the concept," company representatives said in January. Start Casa Visio is a limited liability company whose main activity is online retail and other related activities according to Official Gazette data.
Last year Benmaghnia said Holcim Romania would also go on investing in Geocycle, which transforms garbage into energy for its cement plants. "It is a way to cut our bills and solve communities' problem with garbage at the same time. The volume processed last year was the equivalent of the garbage produced in Cluj in one year. We will go on investing in the Alesd plant to increase its capacity to the point where it can process the amount of waste produced by a city like Buzau in a single year," said Benmaghnia. At the same time Holcim will invest in logistics space in order to improve distribution, according to the same source.
Holcim Romania has invested over EUR 700 million over the years in increasing productivity and modernizing its local plants. One example is the EUR 15 million investment in a heat recovery installation at its factory in Alesd in 2013. The installation produces electricity using the gases resulting from the cement production process and generates about 15 percent of the electricity the factory uses.
Benmaghnia has a degree in Trade from the University of Tunisia, a certificate in management accounting from the Concordia University in Montreal, Canada, and an executive MBA from the University of Sherbrooke, also in Canada. Additionally, he is a certified public accountant (CPA) and a certified management accountant (CMA), according to Holcim officials.
Holcim Romania operates two cement factories in Romania in Campulung and Alesd, a grinding station and cement terminal in Turda, 14 ecological concrete plants, three aggregate plants, two special binding material plants and a cement terminal in Bucharest. The company has approximately 800 employees and is part of the LafargeHolcim group that resulted from the merger of Lafarge and Holcim in 2015.