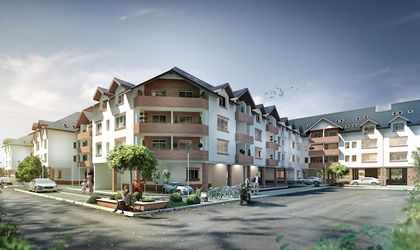 British Romanian Investment Partnership is to build New Residence Bucharest, the second residential project developed in Romania following an EUR 10 million investment.
British Romanian Investment Partnership, part of the British investment fund ARDC (UK) Ltd announced the release of their second residential project developed in Romania, New Residence Bucharest complex, comprising 24,000 sqm built on a plot of 10,000 sqm.
With an investment of EUR 10 million, New Residence Bucharest, the residential complex located in Drumul Taberei neighborhood, will comprise 216 turnkey apartments, with English style architecture and low height structure.
Currently, the project is in the first phase of construction, which will be completed in December 2016. The entire project is scheduled to be delivered in the spring of 2017.
"New Residence Bucharest is a special residential project, both in terms of architecture and facilities. As well as before, we took into account the criteria underlying the choice of a home, whether it's about quality, price, accessibility and comfort. We are inspired by the idea of making happy this year hundreds of families in a residential complex with facilities carefully chosen and also to provide quality housing at an accessible price," said Cristian Mercioniu, General Manager New Residence.
New Residence Bucharest will feature 2 and 3 bedroom apartments and will be built on a solid structure according to anti-seismic norms and 45 studios, available in five different features. The 117 two-bedroom apartments of 57 to 77 sqm will be available in 13 different types with one or two balconies.
More, New Residence project will also include 5 types of apartments with three rooms, totalling 54 units with asurface of 85 sqm to 95 sqm. The complex will feature secured common areas, elevators, private parks, social club, parking, 14 commercial properties, supermarket, a gym, afterschool, pharmacy and playgrounds for children.
Georgeta Gheorghe